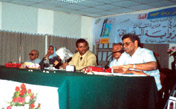 Front Ranking Yemeni Short Storywriter Honored in al-Afif [Archives:2001/25/Culture]
Under the patronage of Mr. Abdulwahab al-Rawhani, Cultural Minister, the second cultural exhibition for story and novel was held during 19-23 May in the headquarters of al-Afif Cultural Corporation. The exhibition was organized by the Story and Novel Club.
Mr. Abdulwahab al-Rawhani, Cultural Minister, inaugurated the exhibition. He went around the photo exhibition prepared by Mohammed Saeed Noaman, artist. The exhibition is commenced with a recitation from the Holy Qura'an by Zaidah Shibam. Mr. Ahmad Jaber Afif in his welcome address expressed happiness to host the exhibition. He also talked about the role of the corporation in supporting and encouraging Story and Novel Club and sponsoring youths to spread cultural awareness in the Republic.
Mrs. Nadiah al-Qawkabani, an eminent storywriter, in her speech stressed the importance of stories and novels. She emphasized that writers have to be given the attention needed so as to show their merits.
Mr. al-Rawhani, Cultural Minister, in his address expressed his happiness to take part in this exhibition. He indicated that cultures mark the identity of societies. They also represent the scale through which societies are evaluated. A society which possesses the treasure house of literary talents is an esteemed society while those which lack these resources are illiterate societies. He said "The Yemeni society has a great historical and cultural heritage. There are many literary talents which are in need of support. The government will do its best to support and patronize these literary men."
He concluded his speech by wishing everybody success. He also congratulated the artist Mohammed Saeed for his marvelous exhibition and the short story writer Abdullah Bawazir and Mrs. Ramziah al-Eryani on the occasion of honoring them. During the break Mr. Jaber Ali Ahmad presented a song and played the lute.
Finally, Mr. Abdulwahab al-Rawhani, Mr. Ahmad Jaber Afif and Dr. Mohammed al-Ghorbi Amran, Story and Novel Club Chairman, honored the great novelist and storyteller Abdullah Bawazir and the storywriter Ramziah al-Eryani. The coat of arms of the Story and Novel Club was also granted to them as a token of appreciation for their valuable contributions. Then felicitated artists expressed their happiness to be remembered and rewarded.
The artist and celebrated actor Omar Abdullah Saleh read a short story titled "ya khabreer" on behalf of the late storywriter Mohammed Abdulwali. His performance was highly acclaimed.
At the end of the honoring ceremony, some artists spoke about the honored persons. Dr. Noriah Hamdo, and Mrs. Fawziah Noaman talked about the literary talents of Mrs. Fawziah al-Eryani. Dr. Abdullah al-Bar and Mahasen al-Hawti, storywriter, and evaluated the works of Bawazir and their impact in shaping the modern Yemeni society.
——
[archive-e:25-v:2001-y:2001-d:2001-06-18-p:./2001/iss25/culture.htm]