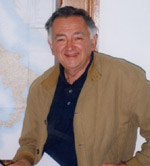 Gianfranco Mingozzi to YT: "Yemenis should preserve their heritage and historical cities" [Archives:2001/27/Culture]
Gianfranco Mingozzi was born in Bologna where he graduated in Law. He later moved to Rome and studied film direction at the Centro Sperimentalc di Cinematografia Film School. His first experience in the field was as assistant director to Federico Fellini on "La Dolce Vita. Forconsiderable period of time he worked at Canada's "Office National du Film." He made his debut as a director with the documentary "La T aranta, which won the first prize at the Festival dei Popoli (People's Festival) in 1962.
Mr. Gianfranco is 68 now. He has been working for 40 years in the field of direction. He directed more than 53 films of which more than 40 are documentary and 13 for cinema and Italian TV.
He remained a confirmed bachelor thinking that marriage may impede his path to success.
He worked with the Italian director Fileen in directing two international films: Life is sweet and Pickatsho through which he got the Oscar in 1961 when the film's exhibitions were held in Florins in Italy.
His most famous film is "Saqaliah in the heart" which obtained many international awards in 1965. Most of its events took place in Venice.
In 1967, he directed another film Trio which gained many international prizes.
In 1968, he directed a film depicting the kidnapping incidents which had increased at the time.
In answer to a question about the objective of his visit to Yemen he said "My visit to Yemen is in connection with the film that I directed titled "Tobiaal Caffe" which was shown in the fifth European Exhibition.
Regarding his impressions on Yemen, he said "I have greatly admired the Old Sana'a and the villages near Sana'a." He added that Yemenis should preserve their heritage and historical cities. He indicated "We had demolished most of the historical monuments and cities our country in Italy. However, we regretted this later. I do advise all Yemenis to preserve this heritage and not to let anyone touch it.
Tobia Al Caffe' is based on a story by Marco Lodoli. Most of the story takes place in the Caffe' Quattro Palme, an elegant and cafe' whose patrons include middle-class regulars now in retirement, military officers, discreet nobles, impeccable in their uniforms.
——
[archive-e:27-v:2001-y:2001-d:2001-07-02-p:./2001/iss27/culture.htm]