Giving women a helping hand [Archives:2002/23/Last Page]
FAHMIA AL-FOTIH
YEMEN TIMES STAFF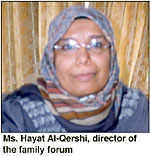 On May 4th, The Family Forum held a workshop for non-governmental and national associations to direct those organizations to depend on themselves and increase their income so theyre less reliant on the government. Fahmia Taha AL-Fotih of The Yemen Times spoke with the director of the family forum, Ms. Hayat Al-Qershi, to learn of the activities and services of the forum.
YT: When was The Family Forum established?
Ms. Hayat: It was established 1999 and the year 2000 was a period of preparation and organization, but it really started its activities in January 2001.
YT: What kind of activities does the forum offer?
Ms. Hayat: There are various activities here for women, for example we teach women to get rid of traditional sewing and learn modern and fashionable ones as well as fancywork and hairdressing. Women can also do sports while they put here children in the forum nursery. In addition, there is computer training and the Internet for women who cannot stay late in Internet cafés, as it is unacceptable by the society. We also help needy and poor families to learn new jobs and have their own income.
YT: How do you see Yemeni women respond to athlete training?
Ms. Hayat: Women in Yemen are deprived of many things and sport is one of these things. Most women are anxious about going to public places to practice such training, as theyre afraid to be observed by a camera. But here it is safe and secure and respect is given not only to the privacy of Yemeni women, but also to women in general. The problem is that Yemeni women consider sport as a luxury and I consider it one of lifes necessities.
Here we do not aim to prepare women for the Olympics, but we let them get a flexible body and fitness. We have a Russian trainer. In addition, we have karate training in which women learn self-defense, as theyre exposed to harassment these days.
YT: What are the obstacles that you have faced?
Ms. Hayat: Of course any project has difficulties in the beginning. Yemeni people want to see if you will fail or not. Actually the big problem is finances, such as how to pay the rent of the building and to pay employees salary and so forth.
YT: Whom would you like to thank?
Ms. Hayat: I would like to thank the Canada Fund Development Program for local initiatives represented by Mr. Fouad Al-Gwahari, who has provided the forum with many facilities. In addition Hayl Saeed Group representative Mr. Mohammed Abdu Saeed has encouraged me with words and finances.
YT: Do you have any final words?
Ms. Hayat: Yes, I would like to address donors who care and are concerned about two things, namely education and health, as they are the main problems in Yemen. I say we have a big problem that is the true enemy, and that is poverty. Yemen is considered under the poverty line so if you are poor you will not get a good education, will not eat nutritious food or buy medicines. If you have enough money, you can educate yourself and be cured. So I say fight the these three diseases: literacy, illness and poverty.
——
[archive-e:23-v:2002-y:2002-d:2002-06-03-p:./2002/iss23/lastpage.htm]