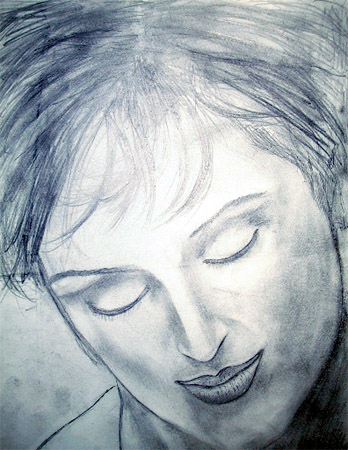 Glance through Abdullah's Masterpieces [Archives:2002/05/Culture]
Abduh Mukbil
Al-Sabari
Yemen Times
Abdullah Abdu Qaed was born in Taiz in 1974. His strong bond with the city, as well as the countryside in which he was brought up is clearly depicted in his paintings. He studied his secondary school at his village where he started scratching in his drawing board. Since his early childhood, he has been reading a lot of books on fine art. He is considered to be the pioneer of a new identity of plastic art in Yemen. After finishing his secondary studies he travelled to Iraq where he specialized in Chemistry. However, the idea of painting has been haunting his mind all the time. He has never parted with his paintbrush or drawing board.
The first impression one gets when he knows the artist Abdullah is that he is undisturbed, unassuming, gentle who has faith and is determined to fulfill something new.
Generally speaking, this is what should be mentioned about the plastic artist Abdullah. He links his paintings with his own personality confessing that without such a characteristic, the artist would be far away from the truth whatever his typical mode of expression was.
I met him by chance at one of my friend's house and started chatting about plastic art in Yemen and how a true artist is disheartened.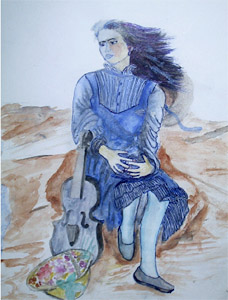 As a matter of fact, there are some distinguished names that deserved to be mentioned not only in the field of plastic art but also in different creative fields such as, storytelling, writing novels and other literary works. They possess the capability of creating something new. The problem lies in that this kind of class of intellectuals is discouraged utterly. We don't know, why? Here, I am not referring to a specific person and as it is said, the truth must be told.
At the first glance at the artist's portraits one can discern that there is a certain kind of adventure penetrating into the artist's mind and then they come into existence. Careful Scrutinize at Abdullah's paintings you will find that he has an innate knowledge and the presence of the material that he paints has been taken from day-to-day reality.
Abdullah's portraits suggest the serene nature that he has. Tranquility and simplicity are distinguishing features of the artist. When I start drawing, I never use an extra time to recheck the work, he said. If I do so the work will be completely destroyed, he added.
This indicates that the artist's masterpieces can not be existed or created at a specific or planed time. Incidental moments come suddenly to his mind and inspired him. An acceptable creation is an outcome of a tranquil person. Abdullah's masterpieces as I have noticed are full of human intuitive creativity.
The majority of his paintings has been mainly focusing on women's faces through their shyness and kindness. Woman is the source of warm feelings and compassion. She bears a resemblance to motherhood, sisterhood. She is the wife, the home and the beloved, he commented.
He has painted many portraits using this kind of art as a release from anxiety and disturbance of the bitter reality of our day-to-day life. The simplest devices are the pencil or light colors which have double indications. Using pencils or light colors means, according to him, conveying serene impressions that arise the feeling of the sightseer at the first glance. Also, his portraits convey common features which possess a sense of generality and the true reality.
In conclusion, the people concerned in the government have been engrossed in their financial problems, especially those in the Ministry of Culture, giving hollow excuses and making no practical solutions to the many problems of artists in our country. Thus, we are confronted with the sordid business deal for themselves and their entourage. I wonder how the intellectual can pursue knowledge in the absence of libraries containing the storehouse of human wisdom. What adds insult to injury is that its very difficult for intellectuals to get their works published and thus lots of creative thinkers and talents are kept discouraged. If we count the recent creative works to be full of positive improvements, especially creative writings; we should pave the way for the whole intellectuals to get established and plant the first seeds of creativity.
Recently, private cultural institutions have shown too much bias. The role of the private institutions seems to be inattentive with regard to encouraging the talented people in our country.
——
[archive-e:05-v:2002-y:2002-d:2002-01-28-p:./2002/iss05/culture.htm]