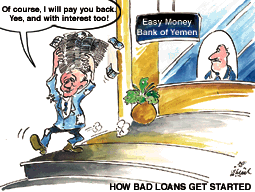 Gone With the Wind! YEMEN'S BANKS: Saddled with 15 Billion in BAD LOANS [Archives:1998/46/Front Page]
The total volume of bad debts owed to the banking sector is about YR 15 billion. That is more than double the total capital and reserves of these banks combined.
That is why Mr. Abdullah Al-Olofi, Sub-Governor of the Central Bank of Yemen for Banking Supervision, in kicking off a 3-day workshop on Non-functional Loans, started with the following sentence: "One of the key problems facing banking today is the accumulation of substandard loans." The 3-day workshop organized by the Yemen Banking Studies was concluded today, Monday, 16th November. It addressed the issue of bad loans. 42 bankers met and discussed what to do with bad loans, which represent more than 30% of the YR 45 billion in total loan portfolios extended by the banks in the country.
The main paper of the workshop was presented by Mahmood Mujahid Noman, Director of Loans at the Yemen Company for Investment and Finance. It laid down the basic problem and the reason for it. It found blame with everything and everybody, except the lending banks, that is. The main factors the author blamed were the legal system, which does not allow lenders to get back at borrowers, even when these are capable of repayment. Another reason is the volatile economic conditions which have rendered bankrupt many ostensibly viable projects.
But the main contribution of this paper was in the many suggestions it offers as possible solutions. One key factor in all of this is the capital adequacy ratios of banks. That is to say the percentage of their paid-up capital to their gross lending.
Another solution is, of course, better analysis of the borrowers and their projects.
Other written interventions presented in the workshop were by Mahdi Alawi, Regional Manager of the Arab Bank, Sharaf Abdul-Rahman Sharaful-Deen, Deputy Director of Statistics and Planning at the Agricultural Cooperative Credit Bank, Hameed Ad-Dahbli of the Industrial Bank of Yemen, Dr. Abdul-Latif Al-Kuhali from the Research Department of the Central Bank of Yemen, Abbas Nasser Ahmed, Director of Financing and Investment, Islamic Bank for Finance and Investment, Ahmed Mohammed Ali, Chairman of the Banking Association, Shaher As-Salehi, Secretary-General of the Yemeni Center for Arbitration, and Mr. Ahmed Mohammed Al-Wabr, lawyer at the Yemen Bank for Reconstruction and Development.
——
[archive-e:46-v:1998-y:1998-d:1998-11-16-p:./1998/iss46/front.htm]