GOVERNMENT IN CRISIS [Archives:2001/34/Front Page]
The case related to S & Davis, International Incorporation and the Government of Yemen took a dangerous direction after the set period for a friendly settlement ended on August 13. Accordingly, the verdicts issued against Yemen will be lead to a redoubling of the penalties while the government of Bajammal is remaining deaf to this issue. 
The cabinet previously discussed the case related to S & Davis Inc. 8 times in its weekly meetings without reaching an acceptable solution on this matter. This will result to further damages to the Government because of the delay. 
Prime Minster Abdulqadir Bajammal recently referred the case to the Minister of Supply & Trade Mr. Abdulrahaman M. A. Othman and the Minister of Finance Mr. Alawi al-Sallami in order to take the necessary measures in the interest of the Government of Yemen. As a consequence of this unresolved issue, the US Government stopped its financial assistance to Yemen which was totalling USD 39 million on a yearly basis. 
Furthermore, President Saleh issued directives to prompt the case's settlement in a way that does not financially damage the Yemeni Government. The former head of government, Abdulkarim al-Iryani, also issued similar directives asking for a rapid settlement of the case as Yemeni argumentation in this case presented fatal weaknesses. 
The case related to S & Davis Incorporation started in 1996 when the Yemeni government imported a 300000-ton shipment of wheat from S & Davis on behalf of the Government-owned the General Corporation for Foreign Trade & Grains and the Ministry of Supply & Trade which had an official authorization for this transaction. The payment term of the transaction was opposed by the mayor of the Central Bank of Yemen (CBY), Mr. Alawi al-Salami, based on the Bank legal consultant's study, the transaction cost was exaggerated. 
The company's agent in Yemen, Mr. Mohammed Ahmed Saeed, told Yemen Times that S & Davis had tried to settle the case friendly before resorting to arbitration. However, after failing to settle the case by friendly avenues, the company used Paragraph No. 10 of the arbitration agreement signed by the two parties to refer to the London-based GAFTA in an effort to settle the dispute. Paragraph No. 10 stipulates that in case of any dispute unless it is settled in a friendly manner the case has to be referred to the London-based GAFTA. 
Furthermore, Mr. M. Ahmed Saeed indicated that " the lawyers and representatives of the company have arrived in Sana'a and held a first meeting with the Prime Minister and the Minister of Trade. In the following day, the corporation had been surprised to be informed that the ministers assuming the responsibility of settling the case had traveled abroad, completely neglecting the issue. The officials and lawyers of S & Davis left Yemen without achieving any success." 
Sources at S & Davis, International Inc. told Yemen Times that the company would be forced to execute the ruling and confiscate any property belonging to the Government of Yemen even if being the Yemeni Embassy in Washington. So, this will further complicate the matter and put Yemen in a very embarrassing situation. It should be reminded that the Yemeni Government only has to purchase another 450 tons of wheat at international market prices to comply with the friendly settlement of the case proposed by S & Davis Inc.See Report page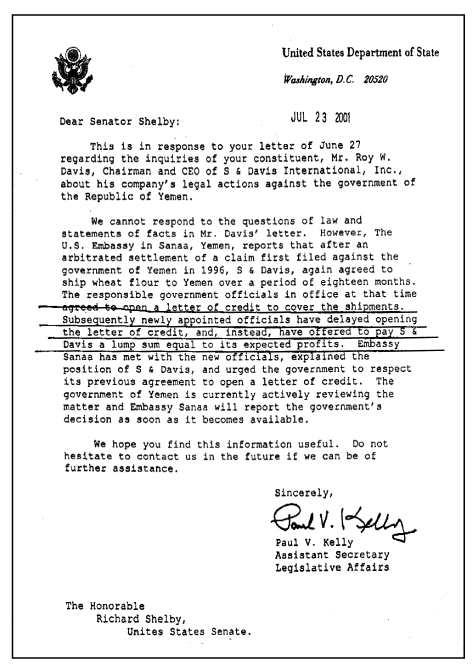 ——
[archive-e:34-v:2001-y:2001-d:2001-08-20-p:./2001/iss34/front.htm]