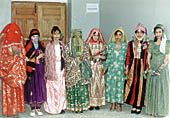 Highlighting the Ordeals of Children with Special Needs [Archives:1998/51/Last Page]
The Educational and Vocational Rehabilitation Center for People with Special Needs (EVRC) organized last week a special program to highlight the condition of handicapped people in Yemen. The occasion was the International Handicapped Day – 9th December, though the event took place on 15th December.
The EVRC was established in 1989 through a UNDP/ILO project, in collaboration with the Ministry of Insurance and Social Affairs.
The high point of the program was a short play performed by the children and teaching staff of the center. The ordeals of this group and how neglected they were by the government and society was stressed time and again. "I want to belong. I want to contribute to my community," said the lead actor, Mutafa Abdul-Jabbar.
Currently the center's enrollment is double its capacity – 241 students in the educational department and 119 trainees in the vocational department. More than 436 on the waiting list. The main beneficiaries are the deaf, dumb, physically disabled and students with mild mental disability.
There are many problems the center is facing, but the main one is transportation. The center is 16 km away from Sanaa and the buses the center is having are old and need lot of repair and maintenance. There are three buses (two buses owned by the center and the third one is leased from a private company). These are not enough for 360 students in addition to the staff.
The Ministry of Social Affairs allocates a monthly total of YR 18,000 to operate the buses. The ,actual amount required is about YR 80,000.
Other problems are presented by the buildings themselves. Never maintained since the day they were built in 1989, they are in a bad shape specially from the inside. The paints have almost gone and the walls are cracked. The glass of the windows were long shattered.
The center itself is situated in an isolated spot, 16 kilometers east of Sanaa. Staff and visitors have to drive a long way for the simplest needs and to keep in touch.
There is also a marked lack of teaching staff, and no training courses to prompt and develop their skill.
On Tuesday, 15 December, a Yemen Times team joined the fair, which was organized by the center. The first thing that shocked me was a simple incident. As out bus rolled into the compound, the driver honked for some kids to clear the way. Nothing happened. It was a few minutes before we all came to the realization that we walked into a new world where sound does not exist. For a moment I pondered over the fate of such children if they were to walk in the streets of our cities.
Life is hard for these children. What have we done to make it easier on them.
By: Hatem Bamehriz,
Yemen Times
——
[archive-e:51-v:1998-y:1998-d:1998-12-21-p:./1998/iss51/lastpage.htm]