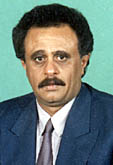 Hussain Mohammed Abdullah: "Art awareness must start at school." [Archives:1998/48/Interview]
Most civilized nations pride themselves in the lively presence of the art industry. Acting, performing, singing, dancing, painting, sculpturing, drawing, and many other activities give life a fuller meaning. In Yemen, that sector is badly underdeveloped.
The General Establishment for Theater and Cinema (GETC) in Yemen employs today 1,145 people. Only 250 of them actually come for any real work to do during daily office hours. The remainder represent a surplus workforce that once used to work in Aden before unification.
All issues aside, GETC is operating in a country that has very few auditoriums, let alone an actual cinema or theater activity. So what does GETC do?
To answer this and other questions regarding the future prospects of this sector, Ismail Al-Ghabiry of Yemen Times talked to GETC Chairman, Mr. Hussain Mohammed Abdullah.
Hussain himself, although an old hand in government, has moved from one field to another. An accountant who graduated from the College of Commerce in Alexandria, Egypt, in 1974, he joined the Central Organization for Audit and Control. Then he moved to the National News Agency, Saba, following which he was appointed chairman of the General Tourism Authority. Since 1990, he is the boss of the GETC.
Excerpts of the interview.
Q: They say "Theater is the mother of all arts", what do you think?
A: That is right. Theater is in fact the mother of arts, since it is a visible work of art which is the eventual product of many other artistic works such as direction, decor, music, accessories, etc. Hence, having such important artistic elements as its prerequisites, theater can be seen as the mother of arts.
Q: Is there theater in Yemen?
A: Most people working in art, mix the issues when answering this question. Professionally speaking, there is no theater in Yemen. Theater is a cultural and social establishment that has its own rules and structure. It has its own financial and managerial systems. And of course, it has its own activities.
Acting determines its relationship with social and environmental setting. Hence, theater affects its environment and is affected by it through its daily activities. It is this interaction that gives theater a meaning. For example, every institute has its own rules, structure and activities. We can judge how well this institute is doing by assessing its contribution to society.
Similarly, one can judge whether or not theater exists in Yemen by assessing its presence in our life. At the present time, theatrical presence in the lives of Yemenis is poor. This means that theater does not exist in Yemen. However, there exist some theatrical elements. By this I mean theatrical writers, composers, singers, actors/actresses, etc., with different levels of contribution. These individuals collect basic salaries from GETC. But their existence does not necessarily mean that there exists theater in Yemen.
Moreover, their activities are limited. They usually come together on annual or semi-annual occasions such as national holidays and festivals.
Q: What are the reasons behind this sad situation?
A: Theater is one of the signs of a civilized society on one hand, and the result of the awareness of its cultural, social, political, and educational contribution, on the other. It is also a symptom of affluent societies. Hence, having or not having theater in Yemen depends on the economic and cultural development.
Q: Does this mean you have given up? Do you leave it to the state?
A: If you mean the government, I say 'Yes'. But I do not throw all the responsibility on it alone. But in creating Yemeni theater, I believe that the government can play the main and most important part.
For theater to emerge, education with its important role in society, is the main starting point. The government should, first of all, focus on the importance of school theater. It should work on reviving important art courses like music, drawing, painting, carving, etc. These were once core courses given in most government schools, but today, unfortunately, have ceased to exist.
If the Ministry of Education does not have the capacity to provide the necessary facilities for these courses to be compulsorily taught at state schools, it should at least encourage private schools to do so.
The revival of such courses will strengthen school theaters, which are important in establishing a true Yemeni theater.
Similarly, the Ministry of Youth and Sports should encourage activities like scouting, acting, and sports. Universities should also contribute to theatrical activities. This includes all universities, private and public.
Q: Where is the Ministry of Information in all of this?
A: By pointing out the important roles of the Ministries of Education and Youth and Sports, I do not exclude the Ministry of Information from bearing the responsibility for developing Yemeni theater.
Little though its responsibility is, the Ministry of Information has not been able to build any theaters – the most essential structure for any theatrical activity.
Q: Could you give us some information about the project to organize and support the GETC?
A: Due to GETC's important role, the project for organizing and supporting it will be implemented to help complete the infrastructure of this organization. It covers financial, legal, and administrative aspects, and aims to bring about a higher degree of reliability and efficiency.
The project will have elements to develop theater and cinema activities and audio-visual media capabilities.
Donor countries and international organizations and establishments will finance the project.
Q: Could you give some details about other future GETC projects?
A: In specifying these projects, GETC bore in mind several key aspects and priorities. We seek to better serve the sectors of culture and tourism.
These projects include movie and photography surveying and documentation; opening cultural and art centers in historic towns; investing in new cinemas and theaters; launching children's theater; erecting prefabricated theaters and much more.
Q: What have you done to establish a special theater for children?
A: Children's culture is a vital aspect of social development. The first step starts with the school theater. Thus, children will become more attuned to this art form, and grow up to be more art-loving adults.
Q: How do you intend to establish this theater?
A: We intend to reserve areas in some public parks to build children theaters. Parks are the place where people, young and old, have the opportunity to spend their leisure time. They are the main destination for parents who would like their children to have a great time during their vacation. Hence, it will be a great accomplishment if we are able to build such theaters in parks. This way, parents can take their children to the park to play and to see theater plays.
Q: What are the overall goals of building children theaters in Yemen?
A: We have several goals in mind. They can be summarized as follows:
– Enhance the children's cultural background and widen their horizons;
– Develop the children's artistic capabilities;
– Enable children to interact with each other more often, and forge friendships;
– Encourage the habit of parents taking their children to cultural centers and theaters.
Q: To have a theater you need suitable auditoriums. How many such places does GETC have?
A: All in all, GETC used to own 25 auditoriums in various parts of the country. Of those, 14 theaters were taken over by private individuals! They are mainly in the southern governorates.
Q: What other suggestions and ideas do you have regarding Yemeni theater?
A: All projects I mentioned can not be implemented unless we understand their nature, goals, feasibility, costs, and possible financing sources. We should concentrate more on actually implementing projects than being sucked in by their administrative hassle. People often squabble on who is going to be the manager before the project implementation starts.
GETC is not the only establishment which will benefit from such projects. All similar establishments in the public and private sectors will also get their share.
——
[archive-e:48-v:1998-y:1998-d:1998-11-30-p:./1998/iss48/intrview.htm]