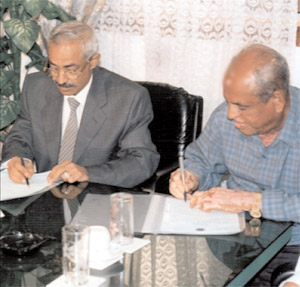 In the Aden Free Zone: 5 Agreements signed at a Cost of YR 335 million [Archives:2001/44/Local News]
Last Wednesday, October 24, five agreements were signed in the General Corporation Building in Aden between the Corporation and a number of General Institutions and National Companies in the field of contracting and building at the cost of 335 million YR. The first agreement was signed between the Corporation and the General Corporation Building to renovate a hall for delivering lectures in the Free Zone totaling 12,271,505 YR. 
The second agreement was signed between the Pre-fabricated Houses Plant and the Corporation to prepare a show hall at the cost of 14,531,980 YR. 
The third agreement was signed between the Corporation and Al-Hamdani Corporation for General Contracting to establish parking lots for vehicles and lorries, which has the capacity for 500 lorries and large motor trucks at the cost of 83,929,850 YR. 
The fourth agreement was signed between the Corporation and Saber for General Contracting Company to construct roads at the distance of 3500 m at the cost of 87,727,660 YR. 
The last agreement was signed between Basabaa Company and the Corporation at the cost of 137,964,877 YR. The Chairman of the General Corporation in the free zone, Derham Abduh Noaman. 
——
[archive-e:44-v:2001-y:2001-d:2001-10-22-p:./2001/iss44/ln.htm]