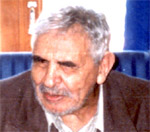 In the Second Commemoration of Al-Baradoni [Archives:2001/36/Culture]
Yemen has great thinkers and poets. It is the abode of the greatest intellectuals who participate in the disseminating of culture and literature throughout the world. Among those is the late Abdulla Al-Baradoni. A few days, the Yemeni cultural corporations commemorated the second anniversary of the late Abdullah Al-Baradoni on Thursday 30. During his life, Al-Baradoni was a great thinker, a famous distinguished Yemeni poet. He was a pioneer in Arab modern literature. Despite the difficult situations he had experienced, he wrote in a variety of subjects varying from politics,society, the deteriorated situations at that time, the time of slavery and tyranny during the reign of the Imam. Such bad situations enlarged and broadened his intellect and continued to use his weapon (PEN) to fight day and night for the betterment of his people and his country. He could leave no stones unturned for the liberation from the oppression of the Imam's rule. Then his poetic talent became a fierce revolution against dictators and tyrants. He began his poetic production in the 1940s. He started depicting the state of suffering and misery of the Yemeni people. One of these poems is the Ship of People "Safinat Sha'ab".
His kind temperament, his profuse writings, and his acquaintance with the Arab literature and folk literature make him a man who has won the respect and admiration of everyone.
Al-Baradoni left behind about ten collections of poems and five books of essays and studies. So far at least two books have been written about him, and he won several prizes including the major prize of the Baghdad festival which launched his career in the Arab world. When he died, he was remembered as perhaps the most eminent poet in the Arabian Peninsula in modern times.
——
[archive-e:36-v:2001-y:2001-d:2001-09-03-p:./2001/iss36/culture.htm]