Inauguration of Aden Demining Training Center [Archives:1998/43/Law & Diplomacy]
Training sessions had already started on Saturday, October 24 at the National Training Center for Demining, which was opened 4 days earlier in the Daar Saad area, Aden. A team of 35 US Marines personnel, including officers, sappers, doctors and media people are delivering the lectures. This course is set to last for two months. 
The launching event was attended by Mr. Muttahar Al-Saeedi, Minister of State for Cabinet Affairs and Chairman of the National Demining Committee; Mr. Taha Ahmed Ghanem, Governor of Aden and Chairman of the Aden Demining Sub-committee; Admiral Charles Moore, Commander of the 5th US Navy Fleet; and Ms. Barbara Bodine, US Ambassador to Yemen.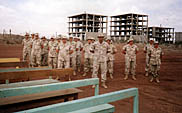 "It is an honor for us to assist our Yemeni counterparts and the international organizations in planning and formulating Yemen's demining program," Admiral Moore announced in his inaugural speech. 
Admiral Moore strongly praised the efforts made by such organizations as the Swedish Radda Barnen and UNDP. "We knew right from the beginning that the task in hand was not easy. Our main motivation is the importance of such a program and the friendships we are likely to build during the progress of the program. Such friendships will surely serve our mutual goals." 
Ms. Bodine congratulated all the people involved in demining efforts. "You should all be proud of this achievement. It is a gesture made by Yemen to the international community signifying a leading role in the demining issue," she said. 
People in more than 60 countries, including Yemen, face a daily danger of death or mutilation because of landmines. About 26,000 people die every year around the world in land mine-related incidents. Large areas of agricultural land is now inaccessible because they are planted with landmines. 
The US Ambassador congratulated the Yemeni people and government on their efforts to get rid of land mines. "We start today the real work towards a Yemen free of landmines," she concluded.   
Mr. Onder Yucer, UNDP Resident Representative in Sanaa said, "opening this center confirms Yemen's commitment to the Treaty to Ban Landmines, which is signed by 134 countries and legally endorsed by 40, including Yemen." 
On his part, Mr. Muttahar Al-Saeedi stressed Yemen's "keenness on following the route of development and peace in consolidating the country's modern achievements." He also highlighted Yemen's commitment to political reform and pluralism and enhancing regional and international cooperation. 
Yemen's demining program is supported by the US and a number of donor countries and organizations. In addition to the training team mentioned above, the US is to provide the demining program with $2.5 million. Canada is contributing $100,000 worth of equipment and the UNDP $500,000. 
Ridhwan Al-Saqqaf, 
Aden Bureau Chief, 
Yemen Times.
——
[archive-e:43-v:1998-y:1998-d:1998-10-26-p:./1998/iss43/l&d.htm]