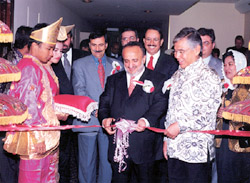 Indonesian Cultural & Food Festival Concluded [Archives:2001/13/Local News]
The Sheraton Sana'a Hotel in co-operation with the Embassy of Indonesia, organized for the first time in Yemen an Indonesian Cultural and Food Festival.
The festival that lasted for three nights at the popular Nour Al Negoum Supper Club included songs, folkloric dance and typical Indonesian food by two (2) chefs flown specially from Sheraton Media in Jakarta.
"The festival was attended by their excellencies Ministers of Tourism, Labor and Immigration, ambassadors, top businessmen in Sana'a and in-house guests. The festival was a successful event and we expect to have the same during the Lebanese Cultural and Food Festival in May 2001," said Mr. Fadeel G. Wahbe.
——
[archive-e:13-v:2001-y:2001-d:2001-03-26-p:./2001/iss13/ln.htm]