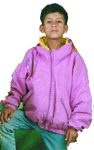 Innocent child imprisoned and tortured by police [Archives:2008/1153/Front Page]
By: Saddam Al-Ashmori
For The Yemen Times
SANA'A, May 7 ) Thirteen-year-old Muneef didn't know that running a simple neighborhood errand would lead to severe torture in prison – or the "tomb of the living," as some call it.
It has been over a week since the teenager's tragedy began, and today he is still behind bars for a crime he was proven not to have committed.
Last Wednesday at 10 p.m., Muneef Yahya Obad Al-Khawlani left his house located near Al-Khaleej Market in Shumaila neighborhood and went to a nearby shop to buy his father milk.
However, police suddenly came and took him to Al-Dhafan Police Station where the station's head and several other officers tortured and abused him, accusing him of stealing car batteries.
"While I was in the shop, I heard something strange. I turned around to see what was going on and was surprised to find the landlord of the building phoning the police and telling them that I was there to steal his car battery!" Muneef recounted.
He continued, "The police came, took me to their vehicle where they tied my mouth tightly and then took me to Al-Dhafan Police Station. As soon as we arrived, the station head and his escorts beat my back and the bottom of my feet with wires, seeking to force my confession that I was a thief. They accused me of stealing car batteries and electric meters from homes."
He says that due to the unbearably severe torture, he told them he would confess so that they might let him down from the table where he was being tortured and not torture him any more, but when he told them that he was innocent, the torture resumed.
"It wasn't enough for them to beat me with wires," Muneef complained, "One of them slapped my face several times and another bit my arm."
Muneef's father told the Yemen Times that the station head had called to tell him that Muneef is wanted on an accusation of stealing the car battery of a resident in his neighborhood.
"The moment the station head called me, I took my son to South Sana'a Prosecution, which transferred him to Juvenile Prosecution, where he was released after being proven innocent," his father said, maintaining that he wasn't informed that police had taken Muneef the second time.
"When someone told me that Muneef was in prison two days after police took him, I sent his 14-year-old brother to the police station, but he also was imprisoned as soon as he arrived to the station with no accusation other than that he is Muneef's brother."
The elder brother was released, however Muneef is still in custody despite the Juvenile Prosecution order. The police authority in Al-Dhafan Police Station re-imprisoned the teenager again.
Muneef's father has appealed to Yemeni Interior Minister Rashad Al-Alimi and the general prosecutor to reconsider his son's case, asserting that the head of Al-Dhafan Police Station and his assistants should be investigated according to law.
Attorney Abdulrahman Barman of the National Organization for Defending Rights and Freedoms, known as HOOD, points out that such acts by the police station and its head are illegal under Yemen's Crimes and Punishment Law, which stipulates that "any employee who tortures others while performing his job, uses his power or threatens any individual under accusation should be imprisoned for a period of not more than 10 years."
He noted that according to the law, those under age 15 aren't to be subjected to arrest and shouldn't be imprisoned with adults. Barman confirmed that there are many children whose health deteriorates in prison, adding that arresting children and placing them in police station prisons is considered a major crime.
The Yemen Times telephoned Al-Dhafan Police Station, but they refused to comment on this issue.
——
[archive-e:1153-v:18-y:2008-d:2008-05-08-p:front]