International Organizations Call for Release of Zaidi [Archives:2001/39/Front Page]
In a letter to Minister of Interior Dr. Rashad, Al-Alimi Reporters Sans Frontieres (RSF) protested against the detention of Hassan al-Zaidi, a journalist working for the Yemen Times. "This arrest is especially worrying since we don't know the reasons for the arrest," said Robert Menard, general secretary of the organization, who requested more explanation from the minister. Hassan al-Zaidi was arrested in Mareb by the security forces on September 8, 2001. He is being detained in the Political Security Office in the governorate of Mareb.
In addition, the US Committee to Protect Journalist (CPJ) sent another letter to president Saleh and Yemeni Ambassador to Washington expressing worries about recent cases of government harassment of journalists in Yemen, urging for an immediate release of Al-Zaidi.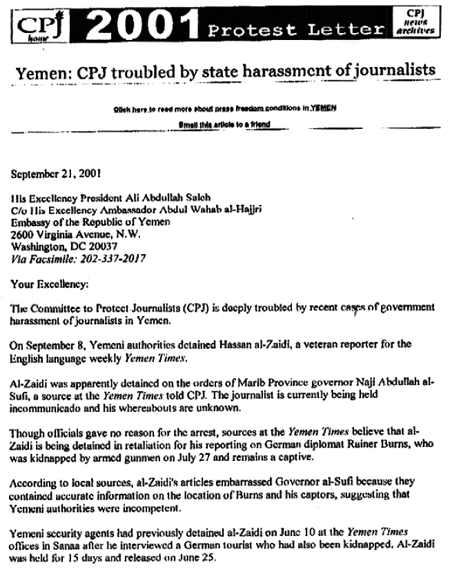 Copies were sent to worldwide organizations,
Yemeni Embassy in USA, American Embassy in Sanaa
——
[archive-e:39-v:2001-y:2001-d:2001-09-24-p:./2001/iss39/front.htm]