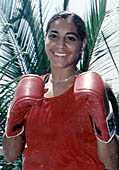 Isra Family Thanks Yemen Times [Archives:1999/01/Sports]
The Sports Desk at Yemen Times received a letter from the family of the Yemeni-Canadian female boxer, Isra Girgrah.
It ran as follows:
'We present our sincere thanks to Yemen Times, its Chief Editor, Dr. Abdulaziz Al-Saqqaf, and the Sport Editor for introducing our daughter to the Yemeni public. Her appearance on the first page is greatly appreciated. Also appreciated is your keen interest in her future ambitions and hopes.
'We stress that youths can achieve a lot, if they find enough care and support. Yemen Times' interest in Yemeni youths, both in Yemen and abroad, makes it a very distinguished newspaper. This is enhanced by the paper's interesting articles in politics, economic, culture, and social issues.'
Yours sincerely,
Isra's parents:
Mohammed
and Sammirah Girgrah
——
[archive-e:01-v:1999-y:1999-d:1999-01-04-p:./1999/iss01/sports.htm]