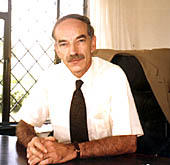 Jean Francois Brétton: "I am lucky to have been an eye witness to Yemen's modern transformation." [Archives:1998/33/Interview]
Jean Francois Brétton's association with Yemen dates back to almost a quarter of a century. He has lived in the country on a permanent basis for the last decade. After six books and 35 research articles, he is finally going to leave Yemen in ten days to go back home, to France.
Jean established the French archaeologic mission in Yemen. The early beginnings were hard and sporadic. They were in Shabwa. Today, there is an established mission with work in many parts of the country.
Jean established the French cultural interest in Yemen. At first, it was random. But with time, it became a strong presence in the form of a cultural center, a language institute, and the French Institute for Yemeni Studies.
Jean contributed to the establishment of French language teaching in the country. Today, there is a French Department at Sanaa University, and another at Aden University. There are also television programs for French language learning.
But most important of all, Jean wrote in-depth documentations of the ancient Yemeni civilizations. His six books are one on each of Baihan, Shabwa, Hadhramaut, Al-Jawf, Mareb, and a book on Yemen, in general. His 35 published research articles cover different aspects of Yemen's ancient world.
Dr. Salah Haddash, Yemen Times Managing Editor, made the following interview with Mr. Brétton, who will be leaving Yemen soon at the end of his diplomatic posting in this country.
Q: When did you first become interested in Yemeni history?
A: I came for the first time to work in Yemen in 1975 in the frame of the French archeological mission in Shabwa. I became director of this mission in 1978, and was deeply involved in the Shabwa excavations.
I worked in the former Yemen Arab Republic from 1980 when we worked in Al-Jawf and different other areas. In 1988 I conducted excavations in Al-Sawda, Al-Jawf on the so-called temple of Banat Aad. My work also involved conducting archeological surveys in the governorate of Shabwa, from Wadi Harib west to Wadi Abadan east.
So it is roughly now 20 years of continuous work in the field of Yemeni history and archeology in Yemen. All in all, I've written about 55 scientific articles and some 6 or 7 books on history and archeology in Yemen. Two of the books are now being printed, and should be published at the end of this year. One book deals with Shabwa and the other deals with history of Baihan and Wadi Markha. They will be published mainly in French with a part in Arabic.
Q: On which civilization have your publications focused?
A: I'm mainly concerned in pre-Islamic South Arabia. It is not pre-history but South Arabian history – first millennium BC, the Middle of the first millennium AD. In 1997, I was awarded a doctorate in domestic architecture in South Arabia from 8 BC till the 4th century AD. This degree is what we call doctor d'Etat.
Q: Are you planning to do more research on Yemen?
A: The General Antiquities Authority has graciously offered me the opportunity to work again in Yemen in the field of history and archeology. I greatly appreciate this offer which I will discuss with Dr. Yusuf Abdullah, Director of Antiquities Authority to see how we can cooperate in the future by.
Q: How do you evaluate the Yemeni-French cultural exchange?
A: The main field of French cooperation with Yemen is the French language. This is mainly done through the French Cultural Center in Sanaa. There are also departments of the French language in the universities of Sanaa, Taiz and Aden. In addition, there is a huge program to introduce the French language into some secondary schools. So this is the main focus of the cooperation.
The second focus is on scholarships. There are now about 40 Yemeni students in France for long-term or middle-term studies, plus some training courses in the French language, science and technology, medicine, agriculture, computer sciences, etc.
For us it is also a matter of long-term planning. Yemeni scholars want to study in France even for a short term, so they have to speak French. That is why we're starting the French language program. Knowing the French language is necessary for increasing the scientific and technical cooperation between Yemen and France.
Q: When did France start offering scholarships to Yemen students?
A: It started more than 20 years ago. I think now there are about 400 Yemenis who have studied in France. Let's say that 40 are going to France yearly, some will remain 2-3 years and some will remain just a few months. I don't think that any country has done such a long-term training program as part of state cooperation. I'm very hopeful that we can expand corporation in the coming years, because the basis of the French language learning is well established now in Yemen.
Q: Is there any other kind of cooperation with Yemeni institutions and establishments?
A: The main area of cooperation is the university in Sanaa, with its faculties of engineering, sciences and agriculture. With the Ministry of Education, the main field is of course training of Yemenis to teach the French language. It's a long-term cooperation process that we have initiated 20 years ago. I personally was part of it through the fields of history and archeology.
I've been really deeply involved in the huge exhibition of Yemen, the Land of the Queen of Sheba, which was held last year in the Arab World Institute in Paris. We have also cooperation through which old French Yemenologists are working in Yemen in the field of sociology, music, architecture, urbanism, town planning, poetry, etc. There are strong personal connections between all these French and the Yemeni scholars.
Q: What do you like most about Yemen?
A: You can't spend so many years in a place without loving it, and without getting a long-lasting attachment. It has now been roughly 10 years since I and may family came to Yemen. It is a horizon-expanding experience when you live in a different country, different language, different culture. You can never think the same way when you return to Europe.
My children have knowledge of other cultures and other religions. Qat is a step in the way of integration in Yemen. Qat-chewing sessions are where you meet people and make friends, where you enter the Yemeni civilization.
Q: Could you tell us a bit about the French Institute for Yemeni Studies?
A: The French Institute for Yemeni studies is not directly in charge of cultural cooperation, but I am the general supervisor. The FIYS has existed since 1982. It is the place where French scholars come to study Yemen. The FIYS offers an extensive library and different research programs in various fields.
This institute should publish articles and books. I wish that is becomes even stronger, facilitating cooperation between Yemeni scholars and not only French but European scholars as well.
Q: What have you been able to achieve as a person responsible for cultural cooperation between Yemen and France?
A: As a cultural attaché you have to deal with almost all the ministries and institutions in Yemen. You have to know where French cooperation is to be widened or strengthened. In every field of cooperation, you have Yemeni partners and you have to learn to work with them. It's good for the mind.
Q: What is the best approach to expand cooperation between the two countries?
A: One of the most difficult points was to know what we call corporation, because we don't have the same ideas or the same concepts. So it means that you have to approach the Yemeni way of thinking and how to deal with this different culture and way of thinking. You cannot come with a program and say this is what has to be done for this country. You have to understand how you can make this possible.
Q: What are the main features of the ancient Yemeni civilization?
A: The first particularity of Yemen when we deal with the whole Arabian Peninsula, particularly in the north of Yemen, is its mountains and climate. So the frame of this civilization is typical, because all they need is physical features.
The main point of pre-Islamic Arabia and agriculture is the way they use the flashfloods, the way they built there own terraces and their own fields. This is a really interesting thing. Yemen's is a very rich civilization in comparison with neighboring countries.
Q: What do you see as unique characteristics of the Yemeni people?
A: It's good to know how a country develops and how a traditional civilization is entering the third millennium. Yemenis are learning things very quickly, they are using some sophisticated modern technology. Yemenis are learning democracy, a new experiences in this country.
So it's going on, it's going back, and it's going in some ways you don't think about. The West cannot impose a particular way of development.
Q: How do Yemenis approach the idea of a nation state?
A: One state is one nation where each person recognizes his her individuality. I don't think the political approach is applicable to the Middle East. There are good examples of resistance to the nation state in Lebanon or Syria, where people do not recognize fully the members of the state. Some are resisting for religious reasons. There several minorities there.
In Yemen also you have different tribes and different Islamic sensibilities. I think Yemenis should think their own way of their own state as a nation, which maybe different from other European nations. Also there is a very good experience of democracy here. The state should be thought of in the frame of local sensibility and minds, not in the frame of trying to copy what is in Europe or the US. I think if you think like this you will fail. French democracy is not the same as let's say the Lebanese one or Africa's etc. Every country has to find its own political system.
As Europeans, we don't feel that in Yemen there is what we call the field of citizenship. This is normal because their was no Yemeni uniformed state. What is missing in Yemen is the idea that everybody should think they are responsible for the state and not what they can get from the state: to respect and serve it, not to use it and gain from it. But that takes time. In Europe we do not give lessons. The birth of the state started some centuries ago. Germany's recent state, for example, has existed for 120 years as a state.
Q: Any last comment?
A: I'm leaving Yemen, but it is very difficult to leave a country in which I have spent such a big part of my life. That is why I do intend to return. I really enjoyed my stay in Yemen, as a historian and a cultural attaché. I was lucky to have been an eye witness to Yemen's modern transformation.
——
[archive-e:33-v:1998-y:1998-d:1998-08-17-p:./1998/iss33/intrview.htm]