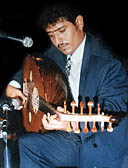 Khawaja: A Singing Prodigy Comes of Age [Archives:1998/47/Culture]
He started young. Quite young. Abboud Zain Khawaja first sang in front of a big audience at 11 years of age. It was during his elder brother's wedding party, which was attended by some of the top singers in Lahaj. That was in the early 1980s. Then nothing could stop him. Now he is an accomplished and very popular young singer and musician.
Lahaji Nadwa Fan
Abboud Khawaja was born in 1972 in Lahaj, where he went to primary school. Lahaj in general and the town of Rahat in particular witnessed a renaissance of the famous traditional Lahaji song. It was where the famous poet Abdullah Hasait and the prodigy singer Mohammed Saleh Hamdoun appeared in the 1950s.
Ever since he was a little child, Abboud was enchanted with songs and music, to which he listened with visible pleasure. During his early boyhood he admired the old songs and music of the Lahaji Nadwa , a forum established in the early 1950s by renowned poets, singers and musicians such as Al-Qomandan, Fadhl Mohammed Al-Lahaji, Abdulkarim Tawfeeq and others.
To further hone his remarkable talent, Abboud enrolled in the Institute of Fine Arts, from which he graduated in 1992. One of his early, very popular songs was "Yaqully Al-Lail Toub" (the night tells me to repent), written by the famous lyricist Saleh Najeeb and set to music by Fadhl Al-Lahaji.
Fame Beckons
Shortly after he sang at that destiny-making wedding party, Abboud Khawaja was invited by Aden TVs' Second Channel to appear in its popular program "Samar," presented by Abdulqder Khidhr. Abboud's popularity now extends beyond the boundaries of Yemen, enhanced by a beautiful singing voice and a delicate sense of esthetics.
He was invited too perform in a society wedding party in Saudi Arabia when he was still 13 years old. He went there accompanied by his two elder brothers, Ali and Mohammed. His talent drew the attention of guests at that party, despite the presence of very famous Saudi and Gulf singers. He did not only sing, but also played the Oud, accompanied by Yemeni musicians living in Saudi Arabia. According to his brother Ali, the audience's enthusiasm was quite remarkable.
First Albums Released
Record companies in Jaddah, Saudi Arabia, such as Shamsan and Al-Jazirah released five albums by Abboud Khawaja. The music was composed by some of Yemen's most famous musicians, including Saud Ahmed Saleh and Abdu Abdulkarim.
"Launching Pad"Abboud Khawaja, quite cleverly, employ the traditional Yemeni song – from Sanaa, Hadhramaut, Yafi', etc – as a launching pad for his singing and musical career. He was able to build a solid foundation for his career by adopting the principles of folklore art. Thus he is now able to write his own lyrics and compose the music for them.
International Acclaim
Khawaja took part in several Arab and international art festivals: Oman's national day celebrations in 1990, Al-Hadhar Festival in Iraq in 1992, Yemeni Heritage Festival in London in 1997, and the Jarash Festival in Jordan earlier this year.
During the Jarash Festival, which brings together a gigantic galaxy of Arab stars, Abboud was interviewed by Jordanian TV, which was also transmitted by the encoded ART satellite channel. A similar interview was made by Tunisian TV; while, the local media also talked to him.
Saleh Abdulbaqi,
YT Arts Editor  
——
[archive-e:47-v:1998-y:1998-d:1998-11-23-p:./1998/iss47/culture.htm]