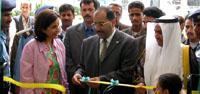 Kuwaiti artist inaugurates first arts exhibition [Archives:2004/750/Community]
Mohammed bin Sallam
Kuwaiti artist Ms. Mai Al-Nouri, accompanied by the Yemeni minister of culture and tourism and the Kuwaiti ambassador in Sana'a inaugurated on the morning of Saturday June 26 her first exhibition held at the Culture House in Sana'a.
The exhibition consisted of 27 oil paintings that reflect on the various stages of the artist's experience.
Al-Nouri is one of the most prominent artists in Kuwait, where she has held several exhibitions since 1988. She has shown her works in China, Spain, Tunisia and Morocco. She is an effective member of the Kuwaiti Women's Cultural and Social Association and one of the founders of the Genuinely Art Ingenuity Group in Kuwait and the Prize for Ingenuity and Creativity in the Fine Arts.
In an interview with Yemen Times, the Kuwaiti artist said, "This is my first visit to Yemen, and I am very grateful and appreciative of the warm welcome I have received and the attention I have received from the Ministry of Culture and the Yemeni people, particularly from the director of the cultural heritage department at the ministry, Ms. Fatemah Ali Al-Baidhani, who personally presented to me an invitation on behalf of the ministry during our meeting in America last summer".
"I would like to present my thanks to all officials at the Culture Ministry, without exception, for their great welcome. I hope to hold a similar exhibition in the future because the great success of this exhibition has given me encouragement to say that I would definitely repeat my visit to my second home country, Yemen".
Ms. Al-Baidhani, on her part, confirmed the importance of having and establishing cultural contacts separate from politics among artists of the Arabian Peninsula.
"Mai Al-Nouri is a prominent artist at the international level. It is an honor for the Ministry of Culture to coordinate the holding of this exhibition with her. Mai came to her country and she actually does not need an invitation to hold such an exhibition. She can do whetever she wants to do and in any Yemeni city. It is also opportune that this exhibition coincides with the celebration of Sana'a, the Arab Cultural Capital 2004", she added.
The opening ceremony of the exhibition was attended by a large number of viewer, as well as a number of Yemeni artists who were very impressed with the works of Ms Al-Nouri.
——
[archive-e:750-v:13-y:2004-d:2004-06-28-p:community]