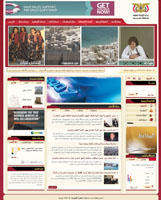 Leaping ahead of all other governortes in the countryE-Hadramout, online for the future [Archives:2007/1048/Reportage]
Saeed Al-Batati
For Yemen Times
Like other Yemeni governorates, the vast Hadramout has roads, health facilities, schools and other infrastructure. However, when it comes to information and communication technology, Hadramout is unrivaled, as the governorate recently jumped leaps and bounds toward ushering in Information Technology.
Approximately 96 web sites have been launched, which are expected to herald new interchange within the governorate and turn the largest-territory governorate into a small village, as every province and government office in Hadramout now has its own web site.
For example, Thamoud is an outlying area located approximately 500 km. from Mukalla. To reach it, one must take the pains of traveling a long road and spending thousands of riyals. But now, by just visiting www.thamoud.info, all of the information about the city is accessible in one click.
Many inquisitive individuals are interested in learning more about the magical island of Socotra but are disinclined to travel from Europe to Yemen. Now, www.hadibo.info can quench their thirst.
The colossal project wasn't born in the blink of an eye; rather, it was on the shoulders of many parties who stood together to make the governorate a leader in e-government.
Balfageh Cultural Center in Mukalla has become a hive of activity whose activities have yielded establishing one of the governorate's greatest enterprises. The project was the brainchild of former Hadramout Governor Abdulqader Ali Hilal, while Ahgaff University was entrusted to design the web sites.
Mohsen Al-Attas, head of the university's Developing and Programming Unit, is one of the founding members of Hadramout's e-government. He still remembers vividly when the idea to establish a Hadramout web site was born.
"Ahgaff University is a nonprofit university, so none of its works designed for society were intended preliminarily for profitable purposes. The governor asked us to design a web site for the governorate with a launch coinciding with the fifteenth anniversary of Unification Day," he said.
Al-Attas added that Governor Hilal developed the idea and suggested establishing a web site for every district and government office in the governorate. A Yemeni ecommerce firm was called in to run the project in December 2005.
Ahmed Baharoon, head of the ecommerce firm Yemen Business Co. Ltd., noted that approximately 30 employees are working just on the Hadramout project, but the company expects to recruit another 96 workers, including editors and journalists.
After agreeing to launch the web sites, the next step was to gather data for them, starting from Mukalla city to Thamoud via the cities in the Hadramout Valley and their government offices. "The initial information gathering process for that web site was an odious task," Baharoon added.
Convincing computer illiterate managers of the project's importance presented another issue. "We knew for sure that the project was groundbreaking, so we put at the forefront the governor's order for those in government offices to cooperate, facilitate our work and provide us the required information."
Even though Governor Hilal ordered managers to cooperate fully with the web sites' correspondents, some of them turned a deaf ear. Baharoon indicated that incorporating the managers stagnated the work.
Under the project, every government official in Hadramout will have his or her own email through Yemenmail.net.
According to Baharoon, if the governorate's local authority maintains its current zeal for taking the first step toward e-government, e-government will be a reality in Hadramout within a year or two.
"The project will provide high standards of service, instant access to information and efficient transactions. Citizens won't be forced to queue at public offices to make a straightforward transaction," Baharoon predicted.
Millions of Yemenis of Hadrami origin densely populate East Africa and Asia. On the web sites, they'll be able to obtain information about their ancestors' birthplace.
Anwar Basloom, editor-in-chief of www.hadhramaut.info, thinks there are three reasons Hadramout's local authority made the decision for e-government. "First, [it] had the courage and determination to make the first move toward establishing e-government in Yemen. Second, Hadramout's colossal and long-rooted cultural heritage must be brought to the world. A third reason is the ongoing changes in Yemeni society. Additionally, many Yemeni expatriates living abroad want to know more about their roots and their Hadramout origins," he said.
Hadramout's governor is always accessible via his email. "The governor receives approximately 30 letters a week in his email Basloom added.
The governor receives emails from citizens, expatriates, tourists and investors complaining about judicial corruption, property issues, expatriate problems, Yemeni borders, social services, infrastructure, administrative corruption, student scholarship problems, academic and educational problems and tourism and investment difficulties. Upon receiving such complaints, the Hadramout governor comes up with a solution to all of the issues.
According to Basloom, the web site project is expected to produce much fruit for the governorate and Yemen in general. "It'll increase citizens' awareness about the importance of information technology and reduce corruption and government spending by creating transparency in the governing process. It will push the country a few steps forward in terms of e-readiness," he predicted.
However, Yemen's Ministry of Telecommunications and Information Technology? still monopolizes internet service, with Yemeni internet charges being some of the most expensive in the world. Its originators say the project will increase internet demand and put more pressure on the Yemeni government to lower high internet charges.
In an effort to eradicate computer illiteracy and encourage citizens to use the internet, the Hadramout governor ordered establishing an IT (Information Technology) project in the governorate, with project head Alawi Al-Jufri maintaining that his department has provided computers to schools.
Aiming to root out computer illiteracy in primary and secondary schoolteachers, former Hadramout Governor Hilal has launched phase one of a vocational development project financed by Awn (Help) Charitable Association.
——
[archive-e:1048-v:15-y:2007-d:2007-05-07-p:report]