Less panic in Aden on SARS infections after recent official denialSARS: talk of town [Archives:2003/634/Front Page]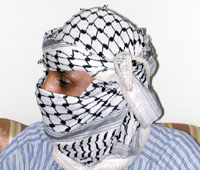 ADEN (May 4)- Panic in the city of Aden has slowly but not completely faded away as citizens heard the news from the Ministry of Health that the recent reports on Severe Acute Respiratory Syndrome (SARS) cases being discovered in Aden were baseless. The panic was reduced after official declarations said that Yemen is so far SARS free. Locals in Aden told the Yemen Times that there was news circulating in the city that more than 10 SARS cases were reported.
Only one person was reportedly to have died last Wednesday in the Jumhuriya Hospital in Aden because of symptoms that are similar but not necessary connected to SARS. When contacted, Dr. Abdulkarim Shaiban of the Ministry of Public Health strongly rejected claims that the patient died of SARS. "This patient had already been suffering from complications in his chest, and has undergone medication in a number of countries before even SARS emerged in China. He was also never reported to have been to any of the contaminated countries." he said.
Medical sources in Aden said that fear among citizens has risen and at least 3 cases of the SARS infections have been reported to the Jumhuria Hospital in Aden.
Trying to confirm those reports, Yemen Times contacted Dr. Dr. Assadi, the manager of the hospital. "We deny those reports. It is quite a shock to see how false rumors have spread so quickly." he said.
"The case which has been reported as a SARS case has been medically checked and we realized that the patient had already been suffering from a chronic disease."
Medical experts at the hospital said that the three cases received by the hospital in Aden had similar symptoms of SARS but could not confirm that they were indeed SARS infections.
"Just after news that SARS hit Aden, doctors as well as nurses in the Jumhuri hospital have refused to receive such cases and never got closer to patients. Even patients rebelled and tried to leave the hospital," one of the other patients at the hospital said.
"Even the gate guards ran away after the news!"
There were also reports that some families in Aden prevented their children from playing outside or even attend school classes fearing possible infection from direct contact with other SARS victims.
It is believed that the authorities in Aden have quarantined those patients thought to be infected with SARS have been quarantined as precautionary medical measures, but according to sources at the Ministry of Health, this should not be perceived as confirmation that those are indeed SARS patients.
On the other hand, the Minister of Public Health and Population, Dr. Abdunnaser al-Munaibari, had earlier declared that SARS has not been detected yet in Yemen, but did say that every precautionary measure is being taken at airports and borders to ensure that no entrance of infected SARS patients is allowed.
"When the World Health Organization declared last March the outbreak of the SARS in China and Eastern Asian countries, efforts in Yemen have already started to prevent the spread of the disease in Yemen. Just as efforts have been made worldwide to limit SARS outbreak, we in Yemen are taking the all measures along this direction" the he said.
Dr. al-Munaibari stressed that the disease has been spreading very quickly and from a country to another. But he did mention that one of the effective strategies to fight the spread of the disease is to quarantine SARS victims in affected areas and wherever found.
In this context, a specialized technical team has been formed to encounter and fight this disease through coordination with concerned bodies including the civil aviation and meteorology, Yemen airways, Sana'a International Airport, the Interior and Foreign Ministries and the Marine and Land Transportation Corporation plus by providing financial allocations necessary to carry out the activities of this team.
Nations are struggling to contain SARS, which has killed hundreds and infected thousands mostly in China and Hong Kong.
The outbreak started in southern China but has spread to about 30 countries. China, which has most infections in the world, is fighting to contain an explosion of cases in its capital, Beijing and in Hong Kong.
Deaths have been reported in China, Hong Kong, Canada, Singapore, Vietnam, Thailand, Malaysia, the Philippines and Taiwan, although Vietnam has said that its outbreak has been "successfully contained".
SARS, an atypical pneumonia of unknown etiology was discovered at the end of February 2003.
The World Health Organization (WHO) is working closely with health authorities in the affected countries to provide epidemiological, clinical and logistical support as required.
A hot line has already been set to receive any reports on SARS cases -symptoms include both high fever (over 38 Celsius) and respiratory problems, including dry cough, shortness of breath or breathing difficulties. A chest X-ray would indicate pneumonia. People with SARS may also experience other symptoms, including headache, muscular stiffness, loss of appetite, malaise, confusion, rash and diarrhea. In case you believe that a SARS case exists anywhere near you, please contact the Health Ministry around the clock on telephone number (01) 252193.
——
[archive-e:634-v:13-y:2003-d:2003-05-05-p:front]