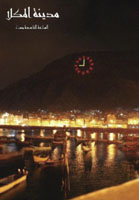 Little Giant: The largest clock ever constructed in the world [Archives:2007/1025/Last Page]
By: Sa'eed Al-Batati
[email protected]
He's a real go-getter, a high-flyer and nationalist through and through. Born in Mukalla in 1971, Hani Mohammed Bajalla is passionately in love with his birthplace and praises it a lot. "When you're on a long trip and then you return to her, your heart immediately dances in eagerness. And why shouldn't it, when nature is within her and she is tranquility, peace, love and compassion?" he said.
Since he was young, the idea of honoring Mukalla with a recognizable landmark has been in the forefront of Bajalla's mind "Don't you think this beautiful city deserves all esteem and gratitude? Mukalla is where I was born and raised within her quarters. Today is a time of thankfulness and appreciation."
While surfing the internet, Bajalla finally found the best gift to return the city's esteemed favor. "While I was looking at the giant magnetized clock of Big Ben, a number of thoughts struck my mind. Why not build a clock like this in Mukalla to be one of the city's most famous landmarks in addition to Khour Al-Quwaizi Fort" he added, commenting on the early stage of the project. After a short discussion with himself, he made up his mind to honor the city with a clock.
This clock is designed to be a lighted clock 60 meters in diameter, thus exceeding the world's current largest clock in Tehran. Mukalla's clock will list the city in the Guinness Book of World Records as hosting the largest clock in the world.
Having received an electrical engineering diploma from Aden's Industrial Technical Institute in 1991, the 36-year-old father of a son and two daughters rolled up his sleeves and consulted his professors at Hadramout University, as well as his colleagues.
Bajalla said he chose his monument to be a clock because in the past, Yemenis in general and Hadramis in particular succeeded in business and their calling from Allah when they utilized every moment in life. "It's a beautiful gesture to the people to pay attention to time so as no single moment is shed in vain and to make use of every single valuable moment in our lives," he added.
At first, he decided to design a small, lighted clock "because I knew very well that designing a large clock was a complicated task requiring much effort." He later discovered that he had the ability to make the small clock larger. "Ideas breed other ideas. The persistent thought of building the clock led me to design the world's largest clock, which I think will make Mukalla stand out among Yemen's cities."
For Bajalla, every project has an aim, and whenever that aim is noble and its purpose great, the inconveniences disappear.
Regarding the importance of his project to the city, "Mukalla is a beautiful city and the clock will make it more beautiful. When people from every corner of the planet hear that the world's largest clock was installed in a Yemeni city called Mukalla, they'll come to Yemen, which will jump-start tourism," he said, adding that it will be located atop the city's highest point so as to be visible to all of its people, visitors, those coming from the sea and fishermen working in the evening.
After much hard work and many sleepless nights thinking about how to make the clock, Bajalla wrote a 200-page research document on it. Not waiting for the clock's birth, the overachieving engineer chose to name the clock "Little Giant," noting that he has hidden reasons for choosing that name.
His in-depth study contains four chapters, each with circumstantial information regarding the project from the idea's origin to modern technological developments.
Continued on page 7
The first chapter is about light, its natural characteristics and the basic principles of human vision. The Little Giant has a major connection with light and its relation and characteristic because it's a powerful giant lighted clock.
In chapter two, Bajalla speaks about electronic lights, which have very important and effective elements in the research, since it deals with light.
In the third chapter, Bajalla discusses the project, which involves the Little Giant, its components and the project's various structural assemblies.
He also discusses suppositions for the clock's skeleton construction and makes a detailed study about the comparison between these suppositions and which is more positive than the others, which forms a scientific viewpoint without forgetting the natural factors for each supposition, as well as power and its connection with the mass.
In the same chapter, he discusses the other unstructured components, which are the electrical components the different optical lamps and the electronic component, such as sensors and the electronic light.
In the fourth and final chapter, Bajalla discusses the clock's maintenance, considering its lofty position, and suggests the need for alternatives when designing the giant clock, such as making spare lamplights and electronic wires, so as to be ready in case the components are damaged.
The research also dealt with the natural effects of weather, such as rain, thunder and lightning storms; thus, the clock is designed to withstand all climate changes. Bajalla also accounted for Mukalla's humidity, so the clock will be made of galvanized iron.
The final words regard the future horizons of operating the Little Giant by solar energy according to a modern progressive scientific study for alternative energy, so as to be ready in the future to assemble it in any high location as a landmark Mukalla, irrespective of whether it has public electricity.
After putting the final touches on his research, Bajalla met with Hadramout Governor Abdulqader Ali Hilal in the hopes of obtaining publicity for his giant clock. "I engaged in a conversation with Hilal, who asked me with interest about the world's largest clock and how and where I'll install it," he explained.
Bajalla said the governor was surprised by his idea and asked him to go ahead with his high-aiming project. The governor promised Bajalla with a laptop and 300,000 Yemeni riyals to conduct the preliminary research.
He seems confident and assured about his project's success, noting, "The clock is designed to operate automatically with minimum error," however, he doesn't rule out other possibilities.
"In science, predictions and extractions aren't definite with certain percentages in advance. That's what characterizes serious scientific research on literary or historical subjects. Scientific research must be characterized by new and creative ideas, as well as a modern scientific spirit; otherwise, it won't be satisfied with the research conditions," he observes.
Bajalla claims that his detailed research is unique because it's characterized by many new things that neither exist currently nor existed in ancient times, such as its huge size and high degree of accuracy for such a lighted clock. The clock's 60-meter diameter is a record, exceeding clocks like London's Big Ben and Tehran's 15-meter diameter Flower Clock, which is considered the world's largest clock.
The clock's preliminary total cost is estimated between YR 50 and 70 million, or approximately $350,000. To support his colossal plan, via the Yemen Times, Bajalla is appealing first to Hadramout's local authority to finance the project for the good of the city, so he is appealing to the government to grant him the money. However, he says he won't say no to any support from non-governmental organizations either inside or outside of Yemen.
He has high hopes that Hadramout's local authority will support him. "I'm always optimistic and we're used to the governor's support for creative individual and joint enterprises," he notes.
Bajalla faces many difficulties to make his dream become reality. "Current research merely is theoretical. We need to do it on the ground. Finding the money to finance the project is a major complication. I also need a working team outfitted with computers." The clock will be erected atop Mukalla's highest peak, whose rough and uneven road presents another difficulty.
Bajalla asserts that when the necessary funding comes in hand, the world's largest clock will be ready within six months to a year.
The black-bearded engineer's life is a success story in the fullest sense of the word. In 2002, he invented HB (the abbreviation stands for Hani Bajalla), a machine to protect cars from theft. He registered it at the Ministry of Industry and Commerce as No. 130/2002 and obtained a patent for his invention.
Hoping for a slice of the pie from President Ali Abdullah Saleh's science prize, he nominated himself for the prize; however, although he applied for the prize for two successive years, he was unlucky and thus, no one received the million-riyal prize.
In addition to being an inventor, Bajalla is also a writer, having authored a 280-page book entitled, "The Scientific Bases for Maintaining Electronic Devices," and currently working on two other books. Despite being in his 30s, Bajalla also is pursuing a bachelor's in engineering at Hadramout University's Faculty of Electronics and Telecommunications.
——
[archive-e:1025-v:14-y:2007-d:2007-02-15-p:lastpage]