Looking for Something Different? [Archives:2001/39/Last Page]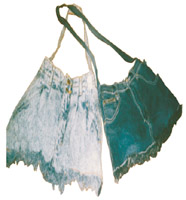 Don't bother yourself thinking of what kind of brand do these fashionable handbags belong to. These are simply made of two old jeans trousers, made by ladies trained at the Dia organization on how to make use of rags and unwanted things.
Although the hand-bag projects have not been completed to look more attractive, the idea may very much appeal to ladies, specially the young ones who are always searching for new.
——
[archive-e:39-v:2001-y:2001-d:2001-09-24-p:./2001/iss39/lastpage.htm]