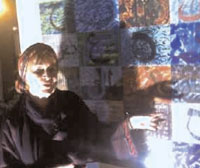 Manda's Portraits: Secret Messages [Archives:2007/1026/Culture]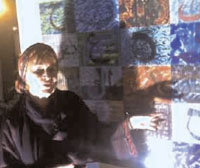 Abdulwahed Abdullah
For Yemen Times
The portraits of German artist Marianne Manda depict the affect Arab culture has had on her. The latest two-week exhibit closed last week in Aden and it concerned an enduring legacy: Arabic calligraphy.
Manda's describes her work as hidden messages in color and drawings.
"Each portrait consists mostly of eight layers. Once the first layer is drawn and painted, I draw the second layer over it with different. Accordingly, I need eight days to paint a portrait," she explains.
Named "Secret Messages" these portraits are a series of color etchings of Arabic calligraphy. Individually represented, each letter has its own designs and drawings.
Although Manda has no background in Arabic calligraphy, she has successfully come closer to the Arabic culture and calligraphy through her extended stays in Arab countries. She noted when describing her art form, "I consider my work fine art."
One plainly perceives the various layers in the drawings. These portraits are like excavations where you remove layer after layer to discover the secrets of its beauty and the messages within the art.
Viewers showed amazement at Manda's innovative style. Hady Al-Awlaqi, a doctorate of history at the Aden University said, "The exhibit is very exciting in terms of color harmony. I think she adds something new to the world of art. No one paints the way she does."
The merger of colors and drawings in her portraits and the dappled effect of the pictures are mysterious for some viewers. Jordanian graphic designer Eyad said, "Once we follow the letters and words that are artistically formed, we need to spend some time analyzing the meaning of the whole word."
One of Manda's plans includes a portrait of the spectacular views found in Yemen. It is scheduled be about 12m wide and 3 m long.
"My painting will represent the stone engraved roses and grass mostly found in excavations sites. Excavations usually reflect what remains of the living things yet they actually symbolize life. They indicate something, that at one time, was alive," Manda explained. The other plans involve travel to the United Arab Emirates and Oman to present her art and, "On the April 19 I will be honored in Salzburg for my works".
German born Marianne Manda studied Painting and Graphic Art in Munich. She draws for the German Institute of Archaeology in Yemen. Manda balances life between Salzburg, Austria and Crater, Aden. She first came to Yemen 19 years ago. Aden has become her second home during the winter months. Impressed with both Aden and the nation she states, "Although people here are very poor, they are very good."
The one place she finds irresistible in Yemen is Mount Shamsan saying, \"I've climbed it four times!""
——
[archive-e:1026-v:14-y:2007-d:2007-02-19-p:culture]"