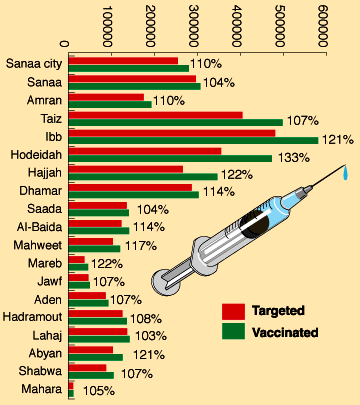 Marvellous success story POLIO VACCINATION DRIVE [Archives:1998/44/Front Page]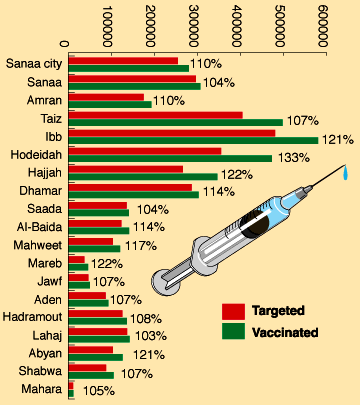 Dr. Abdullah Abdul-Wali Nasher, Minister of Health, and Dr. Abdul-Karim Rasse', Deputy Minister, and the 18,000 men and women who worked with them are happy with the results. They vaccinated 4,087,287 children – a 114% of their target. 
The first of 3 phases of the National Campaign for Eradicating Polio was concluded on October 27. "Through the Yemen Times, I would like to thank President Ali Abdullah Saleh, the Vice President, the head of the Consultative Council, and all officials in all Ministries and the Supreme Committee for Eradicating Polio who joined us to make this campaign a success," Dr. Nasher said. "I would also like to thank UNICEF, WHO, the Japanese government, the Diseases Monitoring Center in Atlanta, the Rotary Club International, Exxon Co and others for their support," he added. 
As head of operations, Dr. Rasse', was more directly involved in the effort. "I value the people's response to our efforts. I hope their response is equally enthusiastic during the second phase of the campaign," he added. 
The second phase of the campaign will be a month later. 
By: Nadwa Al-Dawsari, 
Yemen Times
——
[archive-e:44-v:1998-y:1998-d:1998-11-02-p:./1998/iss44/front.htm]