Mohammed Al-Yemeni: Portrait is where our range of emotions and deep thoughts can find their home [Archives:2006/1000/Culture]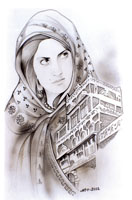 By: Nisreen Shadad
[email protected]
"I live the stages of giving birth and creating my painting melodramatically. I live with it while it's simply feelings in my heart and a big issue in my mind. I take my emotions and thoughts and give them artistic form. Then, I deal with it thoughtfully like it's my child. I try to find an entrancing frame and a safe place to present it in," says plastic artist Mohammed Al-Yemeni.
Plastic art is a fine arts genre demonstrating a nation's culture, as well as the artist's own customs and traditions. "The artist has absolute freedom to use tools and materials effectively reflecting his or her ideas. The artist also must have the flexibility to use various materials to illustrate the picture drawn in his or her mind," Al-Yemeni explains.
Born in 1972, Al-Yemeni is specialized in logography (using logotypes, single symbols representing a larger meaning, in design and printing), as well as having studied theogony (the origin and genealogy of gods). His name has become a common fixture in the publications of numerous international organizations and Yemeni NGOs, including UNDP, UNICEF, CARE, the Ministries of Health and Education, the Universal Health Organization, Partners Without Boundaries and others. Additionally, he has taught art since 1994 and held a 2006 exhibition at the Culture House.
Al-Yemeni believes the artist must burnish his personality and elevate his character since he's addressing his pampered sensibility. He stresses the importance of teaching the new generation of artists each school's distinctive features and understanding their important intellectual precursors.
In this regard, he established Fantasia, a center to teach art, in 1997. In viewing Al-Yemeni's portraits, one can see prominent features of modernist schools; however, he mostly adheres to impressionism (reflecting bright color rather than a subject's true details).
Plastic art is a new art in Yemen and in eastern countries in general. It has undergone several phases in Yemen, as Al-Yemeni explains in the following interview.
What are the phases of plastic art in Yemen?
"Plastic art has gone through three phases. In the '70s, plastic artists were few and could be counted. Hashem Ali was the first to plant the seed of plastic art in Yemen. Though he didn't receive any particular art education, I can say that he's the teacher of all artists and I'm proud of being one of his students. Abdul Jabar Noman also is one of the first leaders of the artist movement up until today.
In the '80s, we moved into the second phase, which involved a wider group of artists such as Nizar Hakim, Fuad Al-Fateeh, Talal Najar and others. Nowadays, we're in the third phase, characterized by a wide group of artists appearing with numerous visions. Most are brilliant and have amazing works; however, they sometimes seek to make a name for themselves at the expense of artistic values. They follow the blind and deaf – those who ignore the academic side and run after simplicity and superficiality. They consider the modern schools easy, even before being aware of the tools of such schools or having a good academic knowledge about art in general.
Do Yemeni plastic artists adhere to a particular school of art?
We can't specify a school for all plastic artists because it depends entirely on the nature of the artist's thoughts. For example, terrorism and oppression are abstract concepts, so one can't illustrate them using the methods of the realistic school. We have to defer to another school, such as symbolism.
Schools and colors (meaning visions) of plastic art are vast; however, they have appeared and spread much more in the West because the history of art extends back thousand of years there, whereas they only appeared in eastern countries around the 1920s.
It's difficult to give a particular date other than the '70s because it began as individual efforts at different times. The only one who can be described as a perfect plastic artist is Hashem Ali and the school obvious in most of his works is realism (illustrating and conveying reality in all its details and complexity). But he then began to diversify, using numerous schools of art.
What obstacles does plastic art face?
Ignorance is where the danger resides. For example, in attending several shows, I find it difficult to ascribe a painting to a particular school. Not only that, but plastic artists introduce themselves as impressionists or modernists.
However, once I begin discussing the basics and fundamentals of their work and the schools they claim to belong to, they usually have no idea what I'm saying. Therefore, I always believe the artist must be knowledgeable enough so that, consequently, he can choose the school befitting his thoughts and ideas.
Furthermore, people attend a show and nod their heads like they know what's behind the paintings. However, in discussing them, they attempt to use metaphysical and big words so as not to appear less than the professional artists. Unfortunately, both the artists and the viewers are ignorant.
What's the value of plastic art and is it simply a hobby artists are eager to practice because it can be more valuable?
Art can represent an issue and, in my point of view, artists are equal to those who bear guns. The best example I can give is the distinctive artist, Najy Ali, who played a vital role in history. He was assassinated in Europe because he could illustrate the disease of Arabs through his paintings, skillfully touching the wounds from which Arab nations suffer.
Artists can shed light on their society's problems and discuss big issues via a neat portrait. They can cause both intellect and emotion to work together to build up a complex pattern of meaning within a painting.
Besides that, today's artists can receive high revenues because the fields in which to work are increasing, including television, advertising, publishing and architecture. Therefore, I see no excuse for artists who are jobless.
——
[archive-e:1000-v:14-y:2006-d:2006-11-20-p:culture]