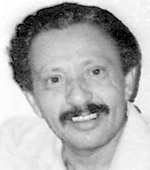 Mohammed Sa'ad Abdullah [Archives:2001/40/Culture]
Mohammed Sa'ad Abdulah is one of the prominent Yemeni singers who has a distinguished artistic life. He was born in the al-Hutah district in the capital city of the governorate of Lahaj in 1938, and suffered a lot during his childhood after the death of his father when he was only nine years old. The young Mohammed Sa'ad was forced to leave school due to his inability to meet his living expenses while in school. Mohammed Sa'ad bore the responsibility of himself so early and chose a path for himself, which is the path of art. Within the period of half a century, Mohammed Sa'ad Abdullah was able to make himself a prominent singer in Yemen and the Arab Peninsula.
Mohammed Sa'ad began his artistic life as a ground music and chorus singer, along with a number of prominent Yemeni personalities who attended wedding parties in Aden, Lahaj and many other cities in Yemen. Mohammed Sa'ad Abdullah was a lover of Sana'ani, Lahji and Hadramiate songs and excelled in performing them. Furthermore, the melodious voice of Mohammed Sa'ad makes him among the most popular singers in Yemen, although achieving popularity in these kinds of songs was not an easy job. Sa'ad mastered playing the lute and is well-versed in Eastern music. Mohammed Sa'ad Abdulah has taken part in many art festivals inside and outside of Yemen and registered his songs at radio and television stations in many Arab states. The songs of Mohammed Sa'ad Abdulah are also sung by many Arab singers like Talal Madah, Hiyam Yunis and others. Mr. Mohammed Sa'ad Abdulah is suffering from a severe disease. We hope that the concerned bodies will pay due attention to him and help in providing appropriate treatment for him.
——
[archive-e:40-v:2001-y:2001-d:2001-10-01-p:./2001/iss40/culture.htm]