NADIA MUHSIN:  The Mystery Unveiled [Archives:2000/06/Reportage]
Part II 
By: Yemen Times Staff 
* All photos are copyright Yemen Times 
For a newspaper like Yemen Times, with an honest and straight forward method in interviewing and reporting, we have obliged ourselves to investigate the truth and interview Nadia personally to know to what extent the stories mentioned in "Sold" and "Without Mercy" are true. 
We have posted real audio files (audio files) from the interview with Nadia on the Internet for our readers online to listen to. 
We even requested Nadia to open the veil to convince the readers that indeed she is the one who is interviewed by Yemen Times as some doubter would otherwise refute the honesty of the interview. The interview was made in circumstances that ensure the safety and freedom of Nadia to speak her mind in English so that the ones around her would not exert pressure on her while confessing to us. The interview was not in anyway cut or censored. On the contrary, during the questions, we tried to explain to her that she should talk frankly and speak her mind without fear. A good signal that she was indeed speaking frankly is that she admitted that she missed England and wanted to visit it one day. 
Here goes the interview: 
Q: First of all, we want to know whether the claims that you are oppressed and staying in Yemen by force and that you suffer mentally and physically from your stay in Yemen are true or not. 
A: These claims are simply not true, and I have told them before and I tell them again. 
Q: Going back to the time before you came to Yemen in 1980. How did it all happen?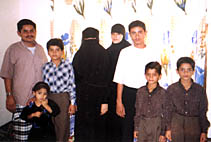 A: When I was 14 years old in England, my father asked if we would be ready to go to Yemen and marry and live a Yemeni life. He wanted us to stay in our country, our proper country, Yemen. Approximately 6 months before I left for Yemen my father showed me a photo of my future husband, Samir Gawad, and asked me whether I accepted him as a husband or not. I agreed by then, and I traveled to Yemen with my husband's father in 1980 knowing that I was going to be married. By then even my mom agreed on my travel and stay in Yemen. We stayed in Maqbana village in the governorate of Taiz for a long time until we moved to Taiz City 4 years ago. 
Q: Frankly speaking, in 1980 you moved all the way from a first world country, that is England to a small village in Yemen, wasn't that disturbing for you? Didn't you face pressure from the environment or were you comfortable? 
A: There was no pressure whatsoever. I was living a peaceful and comfortable life in the village. I was very comfortable. 
Q: How were the conditions in the village? Some claim that you were living in extremely tough conditions in the village. What's your response? 
A: It has got nothing to do with them. As long as I am happy with my husband and my family, I can live under a tree. It has nothing to do with them. 
Q: Even though your mother agreed on the visit to Yemen in 1980, she is today demanding that you go back. What made her change her mind? 
A: Yes she did. She did want me to go back, but I didn't want to go. I told her that this was my country, this was my proper country where I belonged to, and I decided to stay. 
Q: Why wasn't your sister with the same thoughts of staying in her proper country with her family? Why did she leave you and go? 
A: Zeyne didn't want to live here. She was married to Abdullah before she left Yemen and she had two babies. She was not happy with her husband and life in Yemen. She also had personal problems that made her go. She was not comfortable with her husband. On the other hand, I was comfortable with my husband from the first day I came to Yemen, and I wanted to stay with my family, while Zeyne wanted to go. 
Q: How many children do you have? 
A: I have four boys and two girls, namely they are Walid, 16, Hadia, 13, Nassr, 11, Othman, 9, Khaled, 7, and Zahra, 5. 
Q: According to sources from Britain, when Zeyne escaped, she wanted you to escape as well, but she couldn't because of certain reasons, what were these reasons? 
A: She wanted to go, but I told her I don't and can't go to England because I was happy in Yemen and because of my family and husband. It is not true that my husband did not allow me to go. It is up to me. If I want to go, I'll go, if I want to stay, I'll stay here. 
Q: The sources also say that you have been sold along with your sister for $2,500 dollars (her husband laughs), what do you say to this? 
A: He never sold me. That was " Mahr" in Arabic, but these people don't understand these things. My dad married us by the Islamic law, and Mahr is an essential part of any marriage in Islam which is paid to the bride's father. This was a normal thing, we know these things, we Arabs. 
Q: There was a letter said to be written by your sister Zeyne to her mother asking her not to send you to Yemen because she did not know that you two will be married. Did you know about this letter? 
A: I know nothing about this letter. Anyway, I already knew that I will be marrying in Yemen. 
Q: There are several black and white photos of yours and your sister Zeyne taken between 1980 and 1987 and are posted on the Internet, some of which you see here. Who took these photos? 
A: I actually did not know that I was talking to two journalists, probably Allen and her husband Ben. While she was talking to us, her husband took those photos without our knowledge, I didn't see him when taking the photos. 
Q: The last photo of yours was taken in 1996 while you were in the kitchen who took this particular photo? 
A: My brother took that photo while I was eating with my children in the kitchen. I only felt the flashlight of the camera. I did not know that he would be posting it to the public. 
Q: Please answer my question frankly. Do you long to Britain, the country which you spent for 14 years of your life? Don't you want to at least visit it again sometimes? 
A: Yes, the truth is that I do want to visit England, but not now. You know what I mean? I don't want to go there now that I am happy in Yemen. I don't want to leave Yemen. I am happy here. 
Q: Don't you want to visit and see you mother and sister Zeyne? Who I suppose want to see you. 
A: I don't want to visit anybody. The ones who want to call or see me can do so. I am happy here and if they want to see me they can call and see me. 
Q: When did you move from the village to Taiz and to this house? 
A: We moved from the village around 4 years ago. We stayed in a different house until we bought our own house. 
Q: So this house that you are living in is your own property? When did you buy it? 
A: Yes, this house is ours and we bought it around 1 year ago. It is quite comfortable and well-furnished house cost us around 11 million Yemeni Riyals (around $70,000.) 
Q: How is your relationship with the British Embassy in Sanaa. Do you keep in contact with them? 
A: Yes we do. In fact, the last time I was at the embassy was around 1 year ago when I applied for British passports for my children. It's not bad to secure two nationalities for my children, it's good for their future. They have once called asking whether we were ok or not. We told them that we were OK. 
Q: Has your mother or sister Zeyne been contacting you lately? How do you know about their news? 
A: No, they have not been contacting me for a long time now. I learn about them from the British Embassy in Sanaa. I don't know why my mother and sister don't mail me letters or ask about me. 
Q: Does your husband prevent you from calling your mother in England? 
A: No he does not. I don't have their number, and I never asked for it. The contact between us is not broken, but it is just that I didn't ask for their address or contact information. 
Q: What about your father? Where is he, and do you keep in touch with him? 
A: He is currently in England and he used to work in a factory by the time I was in Yemen. I keep in touch with my father frequently. The last time I contacted him was around one month back. I usually call him at his telephone number in England. 
Q: Anything you want to tell your mother or the public? 
A: I just want to tell them that I am OK. They need not to worry. I also want to tell them not to believe what comes in the papers. I am happy and fine here. 
After ending the interview, we took some photos of Nadia reading some excerpts from "Sold" and "Without Mercy," and photos with her family and husband. 
However, to have even a more complete coverage of Nadia's story, we have decided to interview Miriam Ali and Zeyne Muhsin who live in the UK. Therefore, the Chief Editor of Yemen Times has left Yemen for London to interview Nadia's mother and sister and get their response to what has been published so far, and to Nadia's statements. 
The response of the readers to the last issue was spectacular as we got comments from more than 500 readers, wishing to have it continued for two or three more parts. 
As we always care for our readers, we decided to have a third part in which we will be publishing Miriam and Zeyne's interview. Don't miss next week's issue (Part 3).
——
[archive-e:06-v:2000-y:2000-d:2000-02-07-p:./2000/iss06/report.htm]