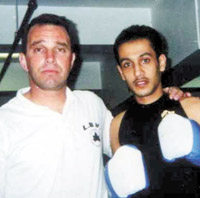 NASEEMS OF THE FUTURE?! [Archives:2001/27/Last Page]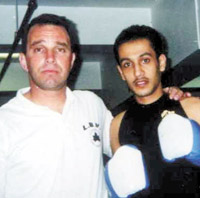 Sammy and Ghamdan Al-Saidi are two 19-year-old US citizen brothers originally from Yemen. Those brothers are slowly becoming more and more popular in New York City for their excellent achievements in boxing. Interestingly enough, their history is similar to that of Prince Naseem Hamed during his early childhood in Sheffield, UK. The two boys contacted Yemen Times notifying us of their forthcoming matches and pointing out to their great potential and talents. They convinced the editorial board to make an interview with them highlighting their career. Their idol is Hamed, and they want to follow his steps to reach the top. They still have a long way ahead of them, but knowing that they could one day be two more Naseems is an exciting thing. They need support and help from the Yemeni government to achieve their goals. Will the government extend a helping hand to support those promising two young boxers, who aspire to represent their country? Let's hope that the Minister of Youth and Sports, Mr. Abdulrahman Al-Akwa' receives this message and reacts positively.
Here is the complete interview with the boxer.
Q: Could you brief us about yourself, origin, date and place of birth, etc.?
A: Me (Sammy Alsaidi) and my brother (Ghamdan Alsaidi) started boxing since we were 12. We are twins born on the 18th of August 1981, and we are originally from Taiz.
Q: What made you and your brother interested in boxing?
A: We got interested in boxing because we wanted to protect ourselves from gangsters. We used to go home with blood all over our clothes. We were tired of getting beaten up, so we had to learn how to fight back. There was a gym next to our house, so my father signed us up.
Q: Do you believe that you could excel despite the stiff competition in the USA?
A: We both fought in the Eastern Olympic Box-Off and we both made it to the semifinals. My brother Ghamdan has won the New York Golden Gloves twice. He also won the Eastern Olympic Regional. I had also won the New York Metro Championship twice and have just won the Empire State games held on the 23rd of June.
Q: Is Naseem Hamed your model or idol?
A: Prince Naz is our Idol. He made us start believing in ourselves. All the boxers we used to box with were always telling us that we could never make it in this sport and that we should go and open a grocery store just like all other Yemenis in NY. This happened before we started thinking about our idol Naseem Hamed and how he made us believe in ourselves and that we could be someone in this sport.
Q: Do you think you could follow suit? How far are you behind in reaching Hamed's level?
A: I am sure that we can prove ourselves and we will try our best to follow suit. We still have a long way ahead of us. We are only 19 now, and Naseem Hamed wasn't a champion until he was 23. We both are turning professional this summer, but we are still not thinking of that. We still want to fight for our Country. We can't represent Yemen if we turned professionals.
Q: When did you visit Yemen last? Are you willing to visit it soon?
A: Last time we visited Yemen was during the last summer. In the beginning we were forced to go to Yemen. But now we wish to go back there. I would love to go to Yemen this summer, but I won't be able to because I have college during the summer vacation.
Q: Do you believe that your country could promote you while in the US?
A: Yemen could promote us by nominating us for the competition us. We would certainly love to compete for our own country.
Q: Has the USA been supporting you in a big way?
A: Yes it has supported us in a big way, especially our coaches and trainers. We have been with them for more than six years and they worked really hard with us and also treated us like their own sons.
Q: Did you contact any Yemeni officials or the Yemeni government for support?
A: Yes we have contacted some functionaries many times. They told us that they would accept us to fight in tournaments. However, they have never so far fulfilled their promise.
Q: How cooperative is the Yemen Embassy in USA?
A: They aren't cooperative at all. We have tried contacting them, but all we got is them saying that it's none of their business.
Q: What are your future matches and plans?
A: I just won the Empire State Games and now I'm hoping to win the USA championship. We both will turn professional in July. But we still have hopes that the Yemeni officials and Government would give us a call to represent Yemen in the international championships and Olympics and tell us to fight before we turn professionals. Once we turn professionals we will not be able to fight on behalf of our country.
Q: Any further comments that you have?
A: I want to thank the Yemen Times especially Mr. Walid Al-Saqqaf for their support and for this interview.
——
[archive-e:27-v:2001-y:2001-d:2001-07-02-p:./2001/iss27/lastpage.htm]