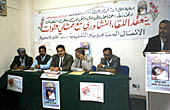 National Days for Eradicating Polio [Archives:1998/42/Health]
On launching the "National Days for Eradicating Polio," a meeting was held on Monday, October 12 at the National Center of Health Education and Information (NCHEI). The meeting was attended by Dr. Abdulkarim Rasei and different officials from different ministries, in addition to a group of media representatives.
The Council of Ministers was informed about the implementation plan of the campaign two weeks ago. The Supreme Committee for Immunization Coordination (SCIC) sent directives about the campaign to various relevant offices and ministries.
All ministries contribute to making this campaign a success. The Ministries of the Interior, Endowments, Finance allocate the budget and send it to the governorates. The Ministries of Information and Defense provide transportation; while the Ministries of Planning and Education try to raise public awareness in schools. The budget is prepared and vaccines have already been sent to all governorates.
A press conference attended by Dr. Abdulwali Nashir, Minister of Health, and members of the SCIC was held at the Ministry of Information. Representatives of the national and international media were invited to attend the conference.
The NCHEI is the office from where the strategies and programs for health education activities are put and sent to Sanaa and other governorates.
"We are mainly supported by the government and some international organizations like the UNICIF, WHO, etc," said Mr. Mohammed Mosa'ad Al-Shami, general director of the NCHEI.
"Before this campaign, the NCHEI organized two similar campaigns in 1996, 1997 for vaccinating children under 5 years of age. The number of children who have benefited from these campaigns until now is 3,558,000. This campaign will be held in two rounds. The first round will be conducted on October 25/26/27 and the second round on November 2/23/24".
Nadwa Younis,
Yemen Times
——
[archive-e:42-v:1998-y:1998-d:1998-10-19-p:./1998/iss42/health.htm]