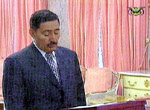 New U.S. Ambassador to Yemen Announced [Archives:2001/19/Front Page]
The White House formally announced last Thursday the appointment of Edmund James Hull to be ambassador Extraordinary and Plenipotentiary of the United Sates to Yemen. Mr. Hull succeeds Barbara Bodine whose term at office ended last April. Hull has been a Principal Deputy Coordinator for Counter-Terrorism since 1999 in addition to being a full participant in the interagency Counter-Terrorism Security group (CSG).
The United States set up a CSG center in Cairo in 1999 headed by Mr. Edmund. The American decision to nominate Edmund as head of the American mission in Sana'a seems to harmonize with the intention to establish a similar CSG center in Sana'a.
Besides Yemen and the Mideast, Edmund is responsible for the CSG affairs in Russia, Pakistan and India.
Hull began his foreign service career as Political Officer at the American Consulate in Jerusalem (1975-1979). Since then he has held many key diplomatic posts including a Staff Assistant to Harold Saunders, the Assistant Secretary of State for Near East and South Asian Affairs, Political Counselor at the American Embassy in Tunis, Director for Northern Gulf Affairs (Iraq and Iran) in the Department of State, Deputy Chief of Mission (DCM) at the American Embassy in Cairo and most recently Director of the State Department Office of Peace keeping.
He was born in 1949 in Keokuk, Iowa, but grew up in Springfield. He speaks Arabic and French fluently, is married and has two daughters.
This nomination gives further credence to the American intention to restore its strategic station in the area as well as to the continuation of the Yemeni-American agreements to counter terrorism.
——
[archive-e:19-v:2001-y:2001-d:2001-05-07-p:./2001/iss19/front.htm]