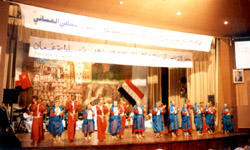 Omani Cultural Week Inaugurated [Archives:2001/12/Local News]
Mr. Faisal Ben Ali, Minister of National Heritage in Oman and Dr. Abdulmalik Mansour, Yemeni Minster of Culture and Tourism jointly inaugurated Omani Cultural Week and the Omani Book Fair at the Yemeni Cultural Center Yesterday. Both ministers expressed satisfaction with the strength of bilateral relations between the two countries and highlighted the importance of such activities.
The activities are to include poetry, musical pieces, dances and a seminar on Yemeni-Omani relations which is being held today.
——
[archive-e:12-v:2001-y:2001-d:2001-03-19-p:./2001/iss12/ln.htm]