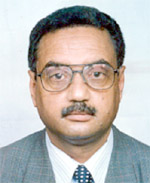 Omar Abdulah Saleh: "There are Some Creative Yemeni Artist Despite the Lack of Resources" [Archives:2001/33/Culture]
Dr. Omar Abdullah Saleh was born in Aden in 5 August, 1950. He studied in Aden up to the general secondary school. During his school days he performed a lot of theoretical scenes and participated in many theatrical activities.
Dr. Omar Abdullah Saleh is one of the founders of the Folkloric Theater of Aden which was created in 1970. Many theatrical performance were presented by Omar such as " Wild Animals and Humans", "Who is He", etc. In 1974 he was nominated by the government for studying theater in the former USSR and was awarded in 1980 the master degree in theatrical direction. In 1980 he was appointed as the director for the Fine Art Institute in Aden in 1981. In 1988 he was dispatched again to the former USSR for studying theater where he got the doctorate degree in theater from the Moscow-based the State Academy for Theater in 1993.
Mr. Omar Abdullah Saleh assumes at the time being the post of the Director-General of Arts and Cultural Centers at the Head Office of the Ministry of Culture in Sana'a.
Speaking about the current situation of art in Yemen, Mr. Omar said that Yemen has different and diversified arts such as the theater, music, plastic art, etc. Furthermore, art in Yemen is characterized by being so diversified since one can notice that the different kind of arts practiced at different areas have distinguished features from one area to another.
As far as the emergence of theater in Yemen is considered, it has started in Aden in 1910 when Aden was visited by an Indian band which performed theatrical scenes and in that period theater in Yemen made its start. After that professional local bands were founded and started performing theatrical scenes in 1964 and they were hosted by Aden TV station. People at that time used to watch the theatrical scenes which were broadcasted live without being pre-recorded.
In 1976 the national theater bands in Aden and Sana'a started presenting theatrical scenes. Many students were sent overseas for higher studies after the completion of their diploma at the institutes available in the country. Thus a specialized cadre in theater who were educated in countries like Kuwait, Egypt and the USSR helped in promoting theater in Yemen. Despite the availability of lots of artists, directors, technicians Yemen lacks an up-to-standard theater-houses. Moreover, the Yemeni theatergoers are not that much since they are not used to such type of art.
As far as music is concerned, Dr. Omar pointed out that we have good musical bands in Sana'a and Aden which have presented nice pieces of music despite the obstacles encountering them.
"The plastic art has made a great progress over the last couple of years in Yemen as there are many competent plastic arts like Dr. Hisham Ali, Abduljabar Noman, Fuad al-Futiah, Hakim al-Aqil and Amnah al-Nussairi, Dr. Omar pointed out. He further added that the Yemeni plastic artists always complain of the non-existence of exhibition halls where they can display their paintings thus the Ministry of Culture has to do something in this regard.
The different styles of art in Yemen are in a miserable situation and so as to get out of this situation attention should be paid to the Fine Arts Institute in Aden and here I would like to thank the Minister of Culture for his noble care of this institute as he has given instructions for renovating the institute which will be reopened the next year.
A praiseworthy steps are the ones taken by the Aden University and the University of Hodeidah as the have introduced department for fine arts affiliating to the faculty of arts. Steps of such, would contribute positively to the artistic movement in Yemen since we are in a pressing need for such institutions.
——
[archive-e:33-v:2001-y:2001-d:2001-08-13-p:./2001/iss33/culture.htm]