On the occasion of the New YearYemen Times celebrates its special clients [Archives:2006/908/Reportage]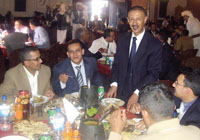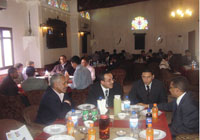 "We derive our strength from your support. And together we will create success. This is why we thought of this small contribution to acknowledge your support and to tell you how much your partnership means to us." Ms. Nadia al-Sakkaf editor in chief and publisher of the Yemen Times started her speech. The speech was addressed to more than 60 Yemeni and international businessmen on the 15th of December 2005 on the occasion of honouring Yemen Times distinguished clients. Yemen Times is Yemen's only independent English Language newspaper. This independence is encouraged through the special partnership Yemen Times has with its clients. In appreciation for Yemen Times partners, the establishment dedicated the special event last month to thank its supporters and to reward some of its elite clients. The celebration took place at AL-Fakhir Restaurant where the invitees had lunch post the rewarding ceremony.
It was a difficult task to choose from the long list of supporters. However choice had to be made and 25 of Yemen Times most distinguished customers were selected. Mr. Khairaldin Al-Nsour Deputy Director and Mr. Rashid Ali Marketing Manager of the Yemen Times were behind this initiative. "The idea was to express our gratitude to our partners and strengthen our relations further. We have extra special relations with many of our partner such as C.C.C., Al-Muthalath Advertising Agency, Yemen International Bank, Universal Group, Hael Saeed Group, Ikhwan Thabet Group and The Commercial Center for Engines, to name a few." Mr. Al-Nsour commented. The clients were each awarded a Swiss Watch on which the Yemen Times logo was embedded.
When receiving his gift, Mr. Hamod Al-Mutwakil general manager of Al-Muthalath Advertising Agency delivered a touching speech to the gathering. "I am genuinely touched." He said. "It is the first time an advertising agency is rewarded. We used to feel like the heroes behind the scene, doing much of the work without being appreciated. Yemen Times broke this norm and put us directly in the limelight. I just want to say thank you for the service you provide to all the readers and advertisers and wish you all the best in life." Mr. Al-Mutwakil said.
Mr. Ameen BaHumam, Car Sales Director of Natco Company expressed his best wishes to the newspaper and its entire staff. And thanked Yemen Times management for the awarding ceremony wishing Yemen Times the best in the future and New Year.
Mr. Abdullah Al-Arasi, Marketing Manager of Yemen International Bank expressed his delight at the occasion by saying: "It was a kind gesture from a prominent newspaper which is known for its excellent communication with its clients. This will enhance the relations between us and the Yemen Times and we wish the newspaper and all its staff all progress and success in the future and once again thank you for your appreciation."
Mr. Zaher Ameen, Director of Mitsubishi Yemen conveyed his gratitude for the lunch invitation and more than that for this honouring initiative. "It doesn't come as a surprise for us that Yemen Times comes up with such a great gesture, because this is a great establishment and has proved its place in the media scene." He said.
Rashid Ali YT Marketing Manager commented on the event by saying: "It is the first time we have such an initiative, but the truth is that we have always thought dearly of our reliable customers. We think of them as Yemen Times family and we appreciate their standing by us, especially after the founder of the newspaper late Dr. Abdulaziz Al-Sakkaf passed away in June 1999."
List of awarded clients, in alphabetical order
1. Dr. Abdulaziz Al-Tarb, Director of the Arab Group for Investment and Development
2. Mr. Abdulla M. Al-Arasi, Head of Promotion/Advertising & Product Development, International Bank of Yemen
3. Mr. A. Latif Haddad, Marketing and Advertising Manager, Thabet Bros. Group
4. Mr. Abdulrahman AL-Maqtari, Deputy Director of AL-Tadhamun Islamic Bank
5. Mr. Ahmed Thabet Al-Absi, General Manger of Yemen International Bank
6. Mr. Aidaroos Bazara'a, General Manager of the Commercial Center for Engines
7. Mr. Ameen BaHumam, Car Sales Director Natco Company
8. Mr. Amer Al-Yedoumy, Administrator, C.C.C
9. Mr. Noor Ashraf, General Manager of Hertz
10. Mr. Gyeon Bliakiahis, Principal of Sana'a International School
11. Mr. Hamod Al-Mutwakil General Manager of Al-Muthalath Advertising Agency
12. Mr. Hani Shehadeh, General Manager of C.C.C
13. Mr. Hassan Zawiya, General Manger of Zawiya Company for Trade
14. Mr. Hussaien Adhban, General Manager of Adhban Establishment
15. Dr. Mansour Al-Absi, General Manger of DHL
16. Mr. Mazin Dawood, Director Nissan Peugeot in Yemen
17. Mr. Moamar Al-Shaibani, Financial Manager of Hertz
18. Mr. Nabil Al-Qawsi, Director of PEPA
19. Mr. Shawqi Al-Hakimi, Deputy Director of Mas Advertising Agency
20. Mr. Sheriff Thabet, Chairman of Al-Huda for Industrial Investment Company
21. Mr. Tariq Abdulwasi, General Manager of Al-Mutahida for Insurance
22. Ms. Um Aied Nadeem, General Manager of Hams Advertising Agency
23. Mr. Wael Abdulrab Awhaj, Marketing Officer, Zibain for Trade
24. Mr. Yahya Ahmed Ghamdhan, General Manger of Nokia Yemen
25. Mr. Zaher Ameen, Director of Mitsubishi Yemen
——
[archive-e:908-v:14-y:2006-d:2006-01-02-p:report]