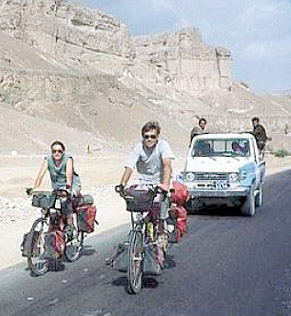 One Year on Bicycle from Germany to Yemen [Archives:2001/41/Last Page]
Barbara Vetter and Vincent Heiland are two German cyclists. They are students of biography and biology. At this moment, they are preparing slide show pictures for Germany.
They started their journey on their two bicycles beginning from their homeland Jena, a city in Germany, and passed through different cities.
The main idea of their bicycle journey was to use their own power and their curiosity to visit Yemen without using any public transportation.
The journey took 380 days and it was 14,000 km. Up to this moment, they have visited 14 countries, including Yemen. But the slow movement of their bicycles gave them the opportunity not only for enjoyment, but also to experience different cultures, to see landscapes, attractive scenes and traditions of nations, and to experience different climates.
They wanted to know the real distance between Europe and Yemen. They faced difficulties in Saudi Arabia; they could not get a visa there.
They reached Yemen after six months of cycling. The journey in Yemen took them two and a half months. They visited different parts of the country such as Al-Mukalla, Sayoun and Sana'a, and then cycled the way back, which took them another four months. Yemen is among their favorite countries.
They told YT, "We read a lot about this country. Although it has a poor economy, it is historically, naturally, and culturally endowed with everything fascinating. We are trying to establish a relationship between Yemen and Germany."
"It is so important to build up a good friendship between these two countries. We plan to visit this country again and make a tour. We like it very much. Here in Yemen we cycle all the time and in Germany we cycle all the time.""We plan to have some German cyclists, not professionals, but normal cyclists to cycle here in Yemen," they said to YT. Concerning false news which was circulating about Yemen and Yemenis, they said that Yemeni people are kind, friendly, and generous.
"It is true that the European countries get a false impression of Yemen, but through the YT, I advised them to come to Yemen and enjoy its natural beauty and its landscapes. It is a peaceful country," they added.
Back in Germany, they produced a slide show about Yemen, its culture, people, and architecture from their journey.
By Abdu Muqbil Al-Sabri
Yemen Times
——
[archive-e:41-v:2001-y:2001-d:2001-10-08-p:./2001/iss41/lastpage.htm]