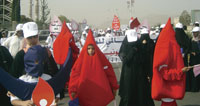 Only 2 percent of Yemenis donate blood [Archives:2007/1060/Front Page]
Fatima Al-Ajel
SANA'A, June 16 ) According to the latest statistics from the National Blood Transfusion and Research Center, only 2 percent of Yemenis voluntarily donate blood as unpaid donors.
According to 2006 statistics, the remaining 98 percent depend upon paying for donors and family substitution when asked to donate blood if needed for a relative or friend.
"In Yemen, most patients' families pay to substitute a relative or friend's family as a type of encouragement for donors, regardless of our advice not to do so. Some families are forced to pay for donors because some donors refuse to give blood to unrelated patients," explains Bathina Mogabil, a lab specialist at the National Blood Transfusion and Research Center.
However, due to the extensive campaign the center organized to mark this year's World Blood Donor Day on June 14, participation from voluntary unpaid donors increased notably. "Based on my observations of the campaign's first days, attendance was high, with approximately 20 percent being unpaid donors," Mogabil noted.
For the fourth time, Yemen celebrated World Blood Donor Day on Saturday under the auspices of the Ministry of Public Health and Population and the cooperation of international organizations.
As part of activities for the big campaign and celebration, a large march was held in Sana'a on Saturday,for more than 1,000 marchers including children, youth and several official and international organizations. The march began from the National Blood Transfusion and Research Center on Al-Saba'een Street and continued to include several main streets in Sana'a.
Dr. Arwa Awan, director the National Blood Center, stated that the activities aimed to increase awareness about the need for safe blood by encouraging current and potential donors to donate regularly and on a voluntary unpaid basis. She noted that the campaign will continue for the next five months.
"It's important that the involved authorities arrange national and medical campaigns to enlighten citizens about the importance of blood donation," she added.
This year, the theme of World Blood Donor Day was "Safe Blood for Safe Motherhood" to highlight the lifesaving role of safe blood transfusions in maternal and perinatal care.
According to the World Health Organization, there are more than 500,000 maternal deaths worldwide each year, 99 percent of which are in developing countries. Approximately 34 percent of maternal deaths in Africa, 31 percent in Asia and more than 21 percent in Latin America and the Caribbean are attributed to hemorrhaging.
The risk of developing complications due to hemorrhaging increases further in pregnant women with underlying conditions such as anemia, sepsis, malaria, HIV/AIDS and female genital mutilation.
According to WHO "Improved access to safe blood transfusions can help prevent death and improve the health of millions of women and their newborns and is a vital component of global efforts to achieve the health-related Millennium Development Goals"
A 2003 demographic survey estimated that 366 women died for every 100,000 babies delivered; 82 percent of these mortalities occurred during delivery and the postpartum period due to bleeding and hemorrhaging. Yemen witnesses eight maternal deaths per day, which is the highest maternal mortality rate among Arab countries.
Basam Al- Saqqaf found the day's celebration an opportunity to give blood as a humanitarian service. "I've seen and heard about patients suffering due to a shortage of safe blood, so I came to provide my service to such people. Today, some people are in need of my blood and maybe tomorrow, I'll be in need too." He advises the public to donate blood, as he says it's the highest service he may give.
Adnan Al-Adima is one of few Yemenis who gives blood regularly, at least once each year. "First, I believe donating blood is healthy for my body, but at the same time, I present a service to someone who really in needs the blood. I only seek reward from Allah," he commented.
World Blood Donor Day is designated as an annual event to be held on June 14, the birth date of Nobel Prize winner Dr. Karl Landsteiner, who developed the system of classifying blood types.
——
[archive-e:1060-v:15-y:2007-d:2007-06-18-p:front]