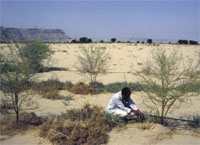 Only 4% of Yemeni land is used to feed the country [Archives:2007/1088/Health]
Hamed Thabet
For Yemen Times
Wide areas of agricultural lands in Yemen are exposed to deterioration, said official report published last week.
According to the report, which was issued by the Centre of Natural Resources at the Ministry of Agriculture, 85 percent of the agricultural lands are subject to deterioration due to natural causes such as water shortage and desertification.
The report said that the percentage of deteriorating lands increases by 5 percent because of human expansion and 3 percent because of desertification annually.
These numbers are very significant especially that only 13.6 percent of Yemeni land (about 6.2 million hectares) is fertile. Moreover, only 1.2 to 1.6 hectares is actually used in agriculture.
Construction and deforestation are the main challenges in the agriculture sector in Yemen. Additionally wrong methods in land cultivation, cutting down trees, dry weather conditions, low rainfall, national and international emigration of people are also hindering this sector.
Moreover, random well drilling, overpopulation and land pollution due to sewers and other pollutants are additional disadvantages facing the agriculture industry in Yemen.
The International Fund for Agricultural Development (IFAD), a specialized agency of the United Nations, called on Yemenis to invest more in agriculture especially that around 80 percent of the country's poor people live in rural areas and most of them depend on agriculture for their living.
Last week, IFAD held a workshop in Sana'a to discuss cooperation strategy between the Republic of Yemen and the UN agency for agricultural developments during the period 2008-2013. Yemeni Agriculture Minister pointed out that there are preparations underway to inaugurate new agricultural projects particularly in Lahj, Mahra and Hodeida governorates, which are considered the poorest coastal and agricultural areas in Yemen.
"Such projects would help in fighting poverty and employing poor rural women and men to generate income and for food security." Said the Minster at the event.
"The project particularly is going to help poor producers to upgrade and diversify their agricultural and livestock production, strengthen their processing and marketing systems, in addition to protecting their assets (soil, water, rangelands, seeds and animals) and increase off-farm household income through the development of new income-earning activities. The project also aims to empower rural poor communities through community-based development planning and project execution. This will result in improving their access to public and private services and to the local and international markets." He added.
The official report stated that over 54 percent of Yemeni labor works in agriculture. Which increases the importance of developing this sector.
IFAD confirmed that low-level technology, poor of production support services, difficult access to markets and financial resources, which are main problems that must be tackled in the near future.
In its early stages, IFAD-funded projects that supported the nation's development strategy of the 1970s, promoting crop intensification in the most suitable areas and fostering institutional capacity building. The primary goal was to improve food self-sufficiency. However, in its later stages the projects have adopted a sharper focus on reducing poverty by addressing the isolation and marginalization of poor rural people and their exclusion from the benefits of economic activities. Since 1979, IFAD has financed 19uprojects in Yemen through offering loans for a total value of US $174.3umillion with a total cost of some USD 600 million. Of these projects, thirteen have been completed, six are still on-going projects and one is just got approved (Sept. 2007). Within the period of current country strategy opportunities program COSOP (2000-2007), the interventions that funded by IFAD- have provided benefits to some 160 000 poor rural households throughout the poorer governorates in Yemen. The program helped participating communities to establish some 450-community development committees.
"The Yemen program has shown some improvement within the period (2005 – 2006) as a result of active involvement of the Yemeni authorities and IFAD to resolve problems facing projects. It is through learning from experience that better implementation and better future program design and impact can be achieved. Also, the impacts of Knowledge sharing and learning through farmer exchange programs both in Yemen and the agency's projects are highly recognized. It is worthwhile to mention that IFAD's experience in Yemen indicates fragile institutional and management capacity, which is being addressed through a comprehensive training program under NENAMTA (Yemen) grant," said, Mr. Avraam louca, a consultant with the agency.
The IFAD Director in the Middle East and North Africa division Ms. Mona Bishay said "IFAD also promised to donate $70 million in order to support the development projects in Yemen". She explained that the projects include the establishment of 90 school classes, 18 primary health units, 15 women community centers, 25 village electricity supply systems, 6 village sewage and sanitation systems and a number of economic infrastructure facilities and services that would help living conditions to about 120,000 households from 163 villages."
Mr. Abduallah Rahman, consult in the agency, said that its strategy is to support the government's development plan, and to work at influencing changes and improvements for poor rural people with farm support services such as credit, extension and roads in order to improve their living standards and income by better management of the resource base and increased opportunities for income. Moreover, to enhance food security of rural households, it must enhance agricultural productivity, and invest support for water harvesting for irrigation to increase crop yields.
The UN agency also stressed on the importance of investing and improving on the fishery industry which is considered also a major source of employment for the country's poor, especially those inhabiting coastal areas. As it is the biggest source of foreign currency, second to petroleum.
According to Ministry of Fisheries statistics, the fishing sector provided 316,000 job opportunities; 65,000 job opportunities for fishermen and 250,000 for those working in marketing and other fishing industry activities. Workers in this sector provide for 1.7 million people, that is 8.6 percent of Yemen's population.
"Therefore the strategy also intends to give support to poor fishermen in order to increase fish catch through investments in boats, fishing gear and marketing cold chains. As for marketing purposes, it is planning to build private institutions as farmer organizations, trade organizations and apex institutions." Said Abduallah Rahman
Supervision of the IFAD funded projects is currently undertaken by UN office for project serves (3 projects), World Band (2 projects) and IFAD direct supervision (1 project). Supervision will focus on providing implementation support towards the attainment of results and the realization of IFAD requirements.
——
[archive-e:1088-v:15-y:2007-d:2007-09-24-p:health]