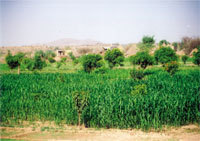 Organic farming important in producing clean, safe food [Archives:2008/1170/Health]
Ismael Al-Ghabri
[email protected]
Turning to organic farming has become a global goal to help clean and safe agricultural products get to the dinner table, particularly while insecticide-related diseases are increasing.
Organic farming depends on environmentally-friendly resources like natural fertilizer. It uses biological ways to combat agricultural problems and tries to stay away from chemical substances that can alter the food and its quality.
Importance of organic farming and its reflections on the surrounding environment:
Environmental pollution – i.e., pollution of the water, soil and air – and their negative effects on human beings are a source of increasing worry during the last two decades, especially in industrialized countries of the world. Organic farming has grown in popularity alongside an increasing resistance to the use of insecticides, growth hormones and antibiotics in agricultural crops and in commercial animal farming.
Concerns are also increasing about the use of genetically-modified substances and the genetic changes in natural food sources. This has become a prevalent topic in the Western media since the appearance of epidemics like bird flu and mad cow disease, which originate in animals and then spread among human beings. There have also been E-coli outbreaks in spinach and other vegetable products, leading the consumers who can afford it to choose organic produce.
The definition of organic farming
Though organic farming is a new concept in the agricultural lexicon, the term refers back to the classical agricultural systems of history, which depended on natural means of food production and animal husbandry.
Organic farming is a term given to an agricultural system that produces food in a natural way utilizing environmentally and socially sound means without reliance on insecticides, chemical fertilizers, hormones or any other genetically modified substances. The aim of this system is to achieve a high level of food quality, environmental safety and well-being for humans.
Organic agricultural practices include:
– Following the normal agriculture production period.
– Using \"green\"" fertilizers like crop waste and animal dung