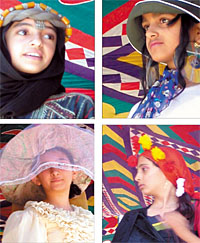 Pakistan School Sana'a holds inter-house sports competitionsAl-Qais House stood victorious [Archives:2003/631/Community]
Pakistan School Sana'a on Thursday held Inter-House Sports Competitions. The institute, every year, spares a week for sports and other extra-curricular activities. This is done in connection with the school policy to give an opportunity to the students to fully participate in games, athletics and stage performances.
This year the events included in the sports week consisted of Football, Volleyball, Basketball, Tug of War, Long Jump, Sack Race, Shot-Put and 50 and 100 meter Races.
All the finals of Football, Volleyball, Basketball, Tug of War were worth watching.
The teams were so well prepared that it was difficult to speculate who would win in the arena. The players competed neck and neck and enthralled the spectators. Long jump, Sack Race, Shot Put, 50 and 100 meter races were also the part of the events. These events captured special attention of the spectators.
Stage performances embellished the students' Week events. The students were so enthusiastic to see these performances that they occupied seats around the stage in advance. Musicians were hired to play background music for English and Arabic songs. Tableaus, skits, poem recitation and fancy dress show colored the stage events.
In the end of these events the prize distribution ceremony was held on last Thursday. His Excellency Mr. Mohammed Asghar Khan Afridi, the chairman of Pakistan School Sana'a and the Ambassador of Pakistan to the Republic of Yemen graced the occasion as the Chief Guest. HE. the Ambassador conferred the medals and merit certificates on the participants. Al-Qais House stood first on the victory stands and won the coveted trophy. Jinnah House, Iqbal House and Al-Zubairy House got 2nd, 3rd and 4th positions respectively and were given consolation prizes.
His Excellency the Ambassador, while addressing the gathering, stressed upon the need of academic excellence and vehemently said that he would leave no stone unturned to make this institute a house of knowledge and center of excellence.
High officials from various departments, parents, diplomats and other dignitaries attended the ceremony.
——
[archive-e:631-v:13-y:2003-d:2003-04-14-p:community]