Plastic artists in Taiz: Portraying Love and Beauty [Archives:2001/26/Culture]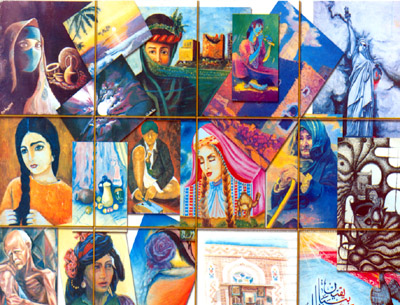 The exhibition of Yemeni plastic arts organized recently at the cultural center in Taiz has exemplified the talents of the participating artists. The pictures depicted their creativity and their view of life. 
However, this art is not easy to have mastery in. It shows the artist's view and imagination through the use of his feather and modest tools to create a wonderful work. 
This art is considered as one of the modern embodiments of our national culture cultivated by artists and the great appeal it has both inside and outside Yemen. 
Despite the importance of this form of arts, people still look at it rather negatively and consider its practice as a waste of time. 
This exhibition contained many works of numerous artists whose portrayals were highly impressive for those who visited the exhibition. 
The exhibition brought together many young and creative artists as ; 
Motaher Asharjabi, Abdualgani Ali, Rashad Assamai, Wafa Al- ashari, Eshtiag Kaid, Mansour Assanea, Abdullah Ghanam, Sadeq Abdullah, Jallal Almahia, Bilqis Al- mahbab, Amaal Abduassalam, and Ahmed Al-habily. It is worth noting that these artists have already participated in many local exhibitions through which they have projected the environment they live in. 
Artist Abdualghani Ali Ahmed, chairman of the plastic artists' syndicate in Taiz, won the president's prize for plastic arts in 1999. He also participated in many individual and group exhibitions. He said about plastic art' Sofis art is an artistic media through which the artist attempts to look to the soul. As he gets involved into it, he derives a form of enjoyment what others do not" 
Mr. Motaher Asharjabi, another participant in the exhibition is a writer, journalist and activist in human rights who has many local and international participation's to his credit. He said that plastic art is the paradise man has been looking for from the beginning of his efforts for creativity. And the portrayal that can not access and provoke appropriate feelings is not a plastic art but a meaningless photograph having no relation to this art. 
He added that plastic art is not worth its name unless it evokes inside us both pain and delight at the same time. Also the artist is a creative in what he performs in the sense that his creation help the viewers identify their dreams. 
The artist Wafa Alashawai, who has many local participations said that she considers this art as her life and the means she expresses her feelings through. Unless it communicates a humanist, pure and truthful message art is meaningless. Life has no meaning without art. 
To Mr. Abdullah Al-Maror, this art is as integral to life as air and water . 
To sum up, those creative artists have potential energy and great aspiration for serving their country through their portrayals. We do hope that those in charge especially the Minister of Culture Mr. Abdul Wahab Arawhani, would leave no stone unturned to cater, help and support them by giving them a chance to cultivate their talents. This can be done through giving them opportunity to enrich themselves, solving their problems and giving them a chance to participate in regional and international exhibitions. By this, we can serve our national culture more meaningfully.
——
[archive-e:26-v:2001-y:2001-d:2001-06-25-p:./2001/iss26/culture.htm]