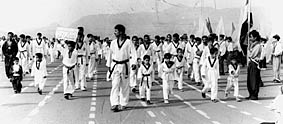 Police Team 1st in Karate [Archives:1998/28/Sports]
The Police Karate Team managed to secure the first position in the qualifying matches which took place last week at the Military Sports Federation hall. This championship was held under the sponsorship of the Karate Federation Branch in Sanaa. The results were as follows:
Team Position Medals 1- police 1st  4 gold 2- Al-Majd 2nd  4 silver 3-Al-Zuhra 3rd  2 silver 4- Al-Shaab 4th  1 silver
As a result of this victory, the police team will represent Sanaa in the final qualifying matches which are to be held at the end of July.
——
[archive-e:28-v:1998-y:1998-d:1998-07-13-p:./1998/iss28/sports.htm]