Polio Immunization: 2nd Round [Archives:1998/47/Local News]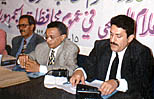 The Ministry of Health, in cooperation with WHO and UNICEF, held meetings on November 15-16, to evaluate the first round and launch the second round of immunization against polio. The meetings were chaired by the Minister of Health, Dr. Abdullah Abdulwali Nasher, and attended by the Deputy Minister, Dr. Abdul-karim Rasse', and the directors of health offices and health education in the governorates.
"Although the first round was extremely successful, we can still learn a few things in order to top our previous performance," the minister said.
Mohammed Ali, Director of the Expanded Program on Immunization (EPI), said that the number of polio cases as well as other childhood diseases in Yemen are extensively monitored. "The EPI will be further expanded in the near future," he announced.
By: Ahlam Al-Mutawakkel,
Yemen Times, Sanaa.
——
[archive-e:47-v:1998-y:1998-d:1998-11-23-p:./1998/iss47/ln.htm]