"Portraying Yemeni women is my primary concern." [Archives:1998/43/Culture]
Ms. Ilham Ali Al-Arashi, chairperson of the Yemeni Plastic Artists Syndicate's branch in Aden, is a well-known and prolific Yemeni artist. In addition to her natural talent for symbolically depicting Yemeni themes, Ilham, 39, also holds an MA degree in graphic arts from the High Institute of Fine Arts, Surikov Academy, Moscow (1990). 
Ridhwan Al-Saqqaf, Yemen Times Aden Bureau Chief interviewed Ms. Al-Arashi. 
Q: How did you start your life with art? 
A: My love for drawing and painting really started when I was a child. I started taking part in school exhibitions when I was at preparatory school. 
Following my graduation from the Teachers' Institute in 1979, I joined an artists' workshop, which was part of the Ministry of Culture and run by an Egyptian master painter – Mr. Darwish.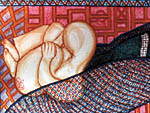 After a two-year stint at the workshop (1980-82), I won a scholarship granted by the Yemen Women's Union to study art at the former Soviet Union. After my return from Moscow in 1990, I worked as a school inspector, dealing with three different schools up to 1997. Afterwards I moved to the Ministry of Culture office in Aden. I now work as a lecturer at the Institute of Fine Arts, as well. 
Q: Do you specialize in a particular field of plastic art? 
A: I mainly do graphics. I use water colors, charcoal, brass etchings, oil paints, printing on stone, etc. 
Q: What are your main themes or subject matter? 
A: My primary concern is women: meek women, illiterate women, confused women; women wanting freedom. Most of my work deals with Yemeni environment and themes. 
Q: In what exhibitions did you take part? 
A: I participated in local and international art exhibitions. My works have been exhibited in Turkmenistan, France, Aden and Sanaa. 
Q: Where do you wish to go from there? 
A: I'd like to further improve my style and hone my talent. I hope the state will give Yemeni artists more care and attention. 
I also wish to win a scholarship to continue my higher studies abroad. 
Q: What sort of difficulties do you come against in your work? 
A: The main obstacle any artist faces is lack of government support. Also, copy rights are not observed. An artist's work might be reproduced in even a government publication, without bothering to ask for his or her permission. 
Q: Any last comment? 
A: I hope that the recently formed Plastic Artists Syndicate, with branches in Sanaa and Aden (15 December, 1997, and 31 August respectively), will be empowered to protect the rights of its members and advance their interests.
——
[archive-e:43-v:1998-y:1998-d:1998-10-26-p:./1998/iss43/culture.htm]