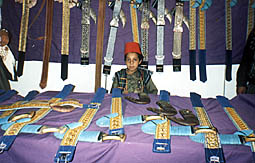 Promoting Handicrafts in Yemen [Archives:1998/29/Last Page]
Ahlam Al-Mutawakil,
Yemen Times
The Private Corporation for the Preservation of Old Sanaa (PCPOS), in cooperation with the Ministry of Culture and Tourism and the Society of Yemeni Chanters, organized an exhibition last week. The purpose was to celebrate the 20th anniversary of President Ali Abduallah Saleh's assumption of power on July 17, 1978. The event was attended by the Ministers of Foreign Affairs, Culture and other officials.
The exhibition included many examples of traditional Yemeni handicrafts made by students at the Handicraft Center in old Sanaa. More than 4,600 people graduated from the Handicraft Center, both the male and female sections, over the past few years.
Ms. Amal Mohammed Saleh, the Director of the Women's Center for Handicrafts, said, "This center was established in 1987 after signing an agreement with the General Authority for the Protection of Historical Cities in Yemen (GOPHCY) and the UNDP. It consists of departments for ordinary embroidery, gold work, weaving, and other traditional handicrafts. Sections of silver and agate work will be opened next month.
"The only thing that is still lacking in the center is that we do not cover all traditional handicrafts from all parts Yemen, especially the southern part.
"Our center, unfortunately, suffers from a chronic shortage of financial and other material resources. A budget of only YR 225,000 for this year is just not enough to cover all the center's intended activities. Its small capacity makes it unable to cope with the increasing number of female trainees. Training is completely free of charge.
With more resources, we hope to open branches for the center in other governorates. And we also hope to introduce new handicrafts such as wood carving, pottery, etc. Learning a new handicraft will certainly help reduce the levels of unemployment.
"As far as marketing is concerned, we have cooperation agreements with travel agents and tour operators to market our products. They bring us tourists and other international visitors."
Ms. Sabah Ghothaim, an instructor at the gold work department and a former graduate of the center, said, "We I was training at this center there were only 10 trainee. Now there are about 1,800 students.
"Resources were far better then because they were provided by the UNDP. Now we have to rely on out own resources and a limited annual budget. Instructors used to receive better salaries then. Now a female instructor receives about YR 5,000 a month, which is just not enough. So many instructors are starting to leave and set up their private businesses."
In the men's section, Yemen Times met Mr. Nabil Ali Al-Saadi who indicated that tourists mainly buy janbias, embroidered belts, silver censers, etc. The main hindrance to more business, he said was high taxes which amount to 60%!
Mr. Ahmed Saleh Al-Qadhi added, "I started working with silver and agate almost two years ago. And I also sell body covers for women. We rely mainly on the tourists who visit the old city."Mr. Samir Al-Malsi inherited the profession of dyeing "maghmaq," which is a traditional cover worn by women. It is a family monopoly. The secret of my profession is handed down the generations for the last 300 years, and is never divulged to outsiders.
"Our product is bought mainly by new brides. It is made purely of Yemeni cloth and dyes. Sometimes we sell up to 30 maghmaqs a day. Our clients come from almost all parts of Yemen. I am practically the only person left doing this job in Yemen. I'll only train my son to do the job, no stranger, not even my brothers and sisters. I was once offered YR 1 million by a Russian tourist to teach her cloth dyeing, but I refused categorically."
Mr. Ali Sadaqa, a silversmith training people at the center, said: "I learned silver work at this center at the hands of a foreign and a Yemeni instructors. Then I started training other people here. I visited a number of foreign and Arab countries to get more acquainted with this profession.
"Most of our clients are foreign tourists. Yemeni, I am sorry to say, prefer the imported stuff.
"We are now in the process of establishing a syndicate for silversmiths to protect our interest and protect consumers from some of bad practices by some unscrupulous people. We will also work on issuing tourists with official permissions to take the stuff they buy out of the country. Airport authorities sometimes prevent them from doing so under the pretext of carrying ancient artifacts. We will also issue the customers with written guarantees that what they are buying is real silver."
——
[archive-e:29-v:1998-y:1998-d:1998-07-20-p:./1998/iss29/lastpage.htm]