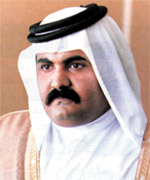 Qatar Celebrates 6th Anniversary of Emir's Assumption of Power [Archives:2001/27/Front Page]
The people of Qatar celebrated on Wednesday 27 June 2001 the 6th anniversary of Sheikh Hamad Bin Khalifa Al-Thani's assumption of power. During the recent years Qatar has achieved a quantum leap in freedom and democracy. A central Municipal Council was elected through a free and democratic process and censorship on press and mass media was lifted.
Principles of intellectual freedom, democracy and popular participation were upheld and aspirations of the Qatari citizen have been fulfilled especially after setting up a committee for drafting a permanent constitution.
The Emir Hamad of Qatar who has been keen on smooth governance of the state and the country could during the past years usher in an economic revolution through redoubling production and building great projects. The natural gas project is a unique example of its kind. Great accomplishments have also been achieved in the sectors of education, health, transport, communications, culture, sports and youth and other public services sectors.
Diplomatically the Qatari foreign policy has been marked by openness through the initiative based on joint cooperation, mutual benefits, respect for sovereignty of states and non-interference in each other's internal affairs. The Qatari foreign policy is also characterized by sisterly and friendly relations, good neighborhood and supporting and defending common Arab and Islamic issues.
The state of Qatar has also put an end to its border disputes with the Kingdom of Saudi Arabia and signed the final maps of border demarcation, a step welcomed by the Arab and the international community. Qatar has also supported Islamic issues concerning activating the Organization of Islamic Conference in unifying the Muslims and solving their problems. Qatar has thus become a modern example of a state that achieved distinction at both internal and external levels.
Yemen and Qatar have developed good and friendly relations under the leaderships of president Ali Abdullah Saleh and His Highness Sheikh Hamad Bin Khalifa Al-Thani. The state of Qatar was the major supporter of the Yemeni unity move and preserving the gains of the economic and social reformation in Yemen.
——
[archive-e:27-v:2001-y:2001-d:2001-07-02-p:./2001/iss27/front.htm]