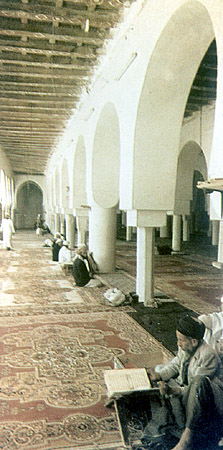 Ramadan in Yemen [Archives:2001/50/Culture]
Saad Sharif Taher
Nadirah/Ibb
Every year, all over the world Muslims celebrate the holy month of Ramadan in which they feel they are one family because they perform the same religious instructions at the same time. They fast from dawn to dusk all days of this month. It is the month of spiritual purification, as Muslims should not only refrain from eating, drinking and lust, but also keep their eyes, ears, tongues and hearts clean, otherwise they may spoil their fasting. Besides all these spiritual practices, Ramadan is loved because it changes the daily routine of others lives.
In Yemen as in other Muslim countries, Ramadan has special taste in cities and villages. In Sanaa and the surrounding cities, the day that precedes Ramadan is called ya nefs ma tishtahi (one is free to buy or eat whatever he likes). All over Yemen it is called yawm il shewaah (welcoming day). Children climb onto the roofs of the houses in the afternoon holding dishes of rings of pie sweets called bent il sehen shouting loudly, welcome, welcome, Ramadan, shawaah shawaah, my ring is spread on earth. They do so to express their rejoicing for this month. They add, I have got my ring in hand, my mother has done everything.
They eat those sweets and get down after half an hour. This means it is the last day in which eating is allowed from morning until night.
After dinner people burn balls of ash mixed with kerosene on the edges of their houses to make a vase, as they are seen from faraway. Men go to chew qat until midnight or after, and women prepare the sohoor before-dawn meal. After dawn prayer they start their first day of fasting and sleep until noon.
In the afternoon, men go to mosques to recite the Quran. Women are busy with preparing al-fotoor (evening breakfast) and dinner. In mosques fasters have dates and coffee after evening azan.
In villages at night men gather in houses to chew qat until dawn, while women form groups, making town teams to take turns performing the belbela, which are popular songs and poems concerning women in a certain place in moonlight. Children go out to play their games for a long time, then women and children go back home to get ready for sohoor. These traditions continue until the end of the month.
In big cities, after fotoor, people go to markets to shop. Others stay at home to enjoy TV. Families and relatives visit each other until midnight. It is a good chance to strengthen social ties.
In the last ten days of the month, most men stay at mosques to worship, which is called al-itikaf. Taraweeh prayers are performed every night of the month after isha prayers. During such days parents are busy buying their kids new clothes and shoes for Eid.
On the last day of Ramadan, people praise God in mosques, loudly saying goodbye to Ramadan and congratulating each other on completing and obeying Gods orders. They depart to get ready for Eid prayers in the early morning. In villages they light fires on mountains as a sign of rejoicing.
It is sure that older people have nice memories about past Ramadhans, which were completely different from the modern one, which some people consider to be a chance to have sweets and chew qat rather than for prayers and worship. Some people find it to be a good chance to give up qat, which I think is the best.
——
[archive-e:50-v:2001-y:2001-d:2001-12-10-p:./2001/iss50/culture.htm]