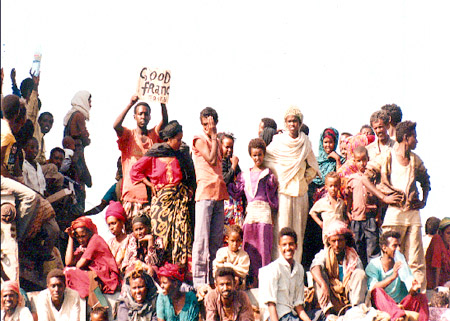 Refugees in Yemen Victims of Poverty and Diseases [Archives:2001/52/Last Page]
The influx of refugees to Yemen from a number of African countries, particularly from the Horn of Africa has constituted a heavy burden on the deteriorating Yemeni economy. More that 250 thousand refugees currently live in Yemen according to the government statistics and 75 thousands according to the statistics of the United Nations Higher Commissioner for Refugees UNHCR.
Some official sources said the problem was more complex due to the diversity of the nationalities of the refugees who take advantage of the very long coastlines of Yemen.
Some figures and statistics released by the UNHCR in Sana'a, said the number of the 51,623 refugees are Somalians , 2674 Eriterians, 946 Ethiopians and 187 are Sudanes. However, some official sources in the Yemeni government confirm that thousands of refugees mainly from Somalia live in Sana'a and other cities and are neither documented by the UNHCR nor by the government itself.
Epidemics like AIDS and other diseases are very rampant amongst the refugees, as more than 1250 AIDS positive cases have so far been discovered.
Recently, the Yemeni government has given strict instructions to pursue illegal immigrants in the country and deport them to their own countries. The Ministry of Interior confirmed that it had deported many illegal immigrants, particularly as some of these refugees are suspected ofdrug-trafficking and acts of robbery.
——
[archive-e:52-v:2001-y:2001-d:2001-12-24-p:./2001/iss52/lastpage.htm]