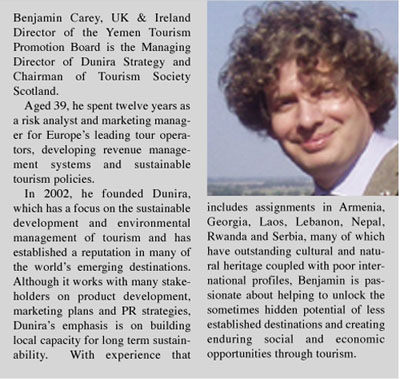 Reintroducing Yemen to Great Britain [Archives:2008/1166/Culture]
Nadia Al-Sakkaf
In an attempt to attract British tourists, Yemeni Ministry of Tourism has appointed Edinburgh-based Dunira Strategy as its PR Representative in the UK and Ireland.
To learn more about this initiative, Nadia Al-Sakkaf interviewed Benjamin Carey, who is UK & Ireland Director of the Yemen Tourism Promotion Board, and the Managing Director of Dunira Strategy and Chairman of Tourism Society Scotland.
Over the coming months in the lead-up to World Travel Market Dunira will work closely with the Yemen Tourism Promotion Board (YTPB) to promote one of the world's least visited countries. A roadshow will be held across Europe with a London event in September. In Carey's opinion, Yemen is an extraordinary country, which deserves to be more widely recognized as an outstanding and unique destination.
UK visitors to Yemen reached a record high of 9,230 in 2006. However, the 2008 number is expected to be lower following a recent spate of violence targeting foreign interests, for which an action plan is in place, and civil unrest in the North, which is being addressed through international mediation.
Despite all this, Dunira Strategy is optimistic about promoting Yemen to the British people.
YT: Why Dunira?
BC: It is a privilege for Dunira to have been appointed Yemen's representative in the UK and Ireland and we look forward to working in partnership with everyone that shares our passion for raising the country's profile, promoting cultural exchange and creating social and economic opportunities through tourism. Ahmad Al Biel YTPB Executive Director confirmed that UK and Ireland are key markets for the board with direct non-stop flights from London Heathrow with Sana'a a gateway to the whole country.
Simultaneously, founded in 2002, Dunira Strategy (www.dunira.com) is based in Edinburgh but does most of its tourism consultancy overseas. Services range from PR and marketing, organisational strategy and business plans, training courses and environmental management of tourism.
Al Biel hoped this new partnership with Dunira would be the beginning of a wider economic and cultural exchange, bringing Yemen and UK closer. \"Dunira struck us as being particularly passionate about Yemen. With a strong track record of successful project delivery and a commitment to sustainable economic development and environmental management underlying their previous PR and marketing work