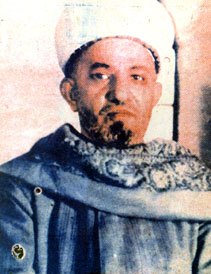 Remembering a True Son of Yemen [Archives:1998/50/Culture]
Sheikh Abdullah Ali Al-Hakimi is a national leader and an Islamic evangelist. He is one of the pioneers of The Free Yemenis Movement (FYM) in 1944, in Aden, along with other notable leaders such as Ahmed Noman and Mohammed Al-Zubairi. He had a remarkable role in establishing/supporting the FYM and its people.
He was well-known among the Arab and Muslim communities in Europe and Africa. He was a leader to the Yemeni emigrants in Europe and Africa since the 1930s.
The Republic of Yemen this week celebrates the 50th anniversary of the issuance of Al-Salaam Newspaper.
The beginning
Sheikh Abdullah was born in Halis village in Taiz governorate in 1900. He received his basic education in Al-Kuttab (village school, where they teach Quran and other Islamic studies). He left for Aden in his early childhood to join his father who was working there. He continued his studies in Islamic science and language.
Abdullah the Soldier:
Sheikh Abdullah joined the Arab army – the Yemeni regiment, which was formed by the British in 1918. He was admired and respected by his seniors and colleagues for his courage, straightforwardness and leadership qualities. He was known for his enthusiasm and self confidence. He served in the army for five years. When he decided to leave, he stated that he will not remain a solider serving the occupiers' interests.
Abdullah the Sailor:
In 1925, he joined a French ship, as a sailor. This job gave him a good opportunity to meet people from different parts of the planet including Yemeni immigrants, and see many new places.
His trips exposed him to the new world, where he was able to compare the life styles and progress of the new world with the backwardness and the darkness of his country. That was a turning point in his life.
Through his Arab sailor friends, he came to know about Sheikh Ahmed Mustafa Al-Alawi school in Algeria, who also was a freedom fighter against the French occupation.
Back to School
During this phase of his life, he decided to leave the French ship and join a Sufi school, where he spent five years learning Sufism and other Islamic subjects at the hand of Sheikh Ahmed. He won the confidence of his teacher, who appointed him as an evangelist to teach Islam to Arab immigrants and other Muslims in Europe.
The Man with a Message
In 1934, he left Algeria on an extended visit to many European cities in France, Belgium and the Netherlands. He closely observed the conditions of the Arab and Muslim communities, where he worked in uniting the different ideologies of these communities through the Islamic societies.
In May 1936, he arrived at England, he toured the country and he decided to settle in Cardiff, where many Yemeni immigrants were living. Cardiff was The beginning of his nationalistic activities. Where he established Noor Al-Islam (light of Islam) mosque, a school to teach Islam and an Islamic society in 1936 to unite the Arabs and Muslims and help them to improve their living standards. He also helped in sending the Yemeni immigrants sons to study in Al-Azhar University in Egypt.
Coming Back Home
In 1940, he decided to come back home, on his way back he visited Egypt with a new batch of scholars wanting to join the Azhar University. In April of the same year he arrived in Aden and established a school in his residence at Sheikh Othman. He then went back to his native village, where he started a school and built a mosque. He believed that the only way to eliminate poverty, backwardness and illness is knowledge and education. He was appointed the General Guide of Taiz province by Imam Ahmed Hameed-ul-Deen, to hold him back from teaching. He felt it was hopeless, there will be no progress under the current circumstances. It was then when he decided to go back to Aden, and before leaving Taiz he met with other intellectuals and freedom fighters such as Ahmed Noman and Al-Zubairi to ensure their support to forming an opposition movement, he escaped to Aden in 1942.
In the beginning of 1944, Al-Hakimi received the freedom fighters who had escaped to Aden. Together, they instituted the Liberals Party, which was named later The Grand Yemeni Association (GYA) after the colonial authorities band them from any political activities in the name of the party.
1948 Tragedy
In May 1946, he went back to England. He represented the GYA in England and abroad, serving as a link between the immigrants and the freedom fighters back at home. Late in 1948, and after the failure of the 1948 revolution, he established Al-Salaam newspaper in Cardiff. The first issue came out on 6th December, 1948.
He was successful in uniting the liberals who were demoralized after the failure of the revolution. Al-Salaam newspaper played an important role in recharging their energies.
Last Home Coming
In 1952, after the Egyptian revolution, Al-Hakimi decided to come back home. He stopped over in Egypt, to discuss with the late president Mohammed Najeeb the possibility of Egyptian support for Yemenis' struggle against the Imam. He also met with Mohammed Mahmood Al-Zubairi who had come from Pakistan.
On 15 January, 1953, he arrived at Aden, where he was falsely accused by the colonial authorities of arms possession. On 2nd April, he was sentenced to one year of hard labor. The liberals took up the case to the supreme court in Nairobi, where he was pronounced not guilty on 17th July 1953.
On 25th Oct. 1953, he was elected by the liberals to lead the Yemeni Association.
It was natural for the Imam and the colonial authorities to unite against him. They fabricated stories to jail him, which they did.
On 4th August 1954 the martyr Al-Hakimi died.
Some of his books:
– God's Religion IS One.
– Dialogue between Christianity & Islam.
– A Call to Liberals
Some of his achievements:
– He built Noor Al-Islam Mosque in Cardiff, England.
– More than 500 persons converted to Islam at his hands.
Compiled by:
Hatem Bamehriz, Yemen Times
——
[archive-e:50-v:1998-y:1998-d:1998-12-14-p:./1998/iss50/culture.htm]