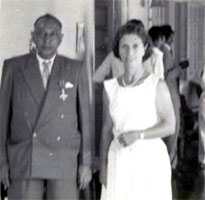 Remembering lives livedTwo men in Yemen's memory [Archives:2004/798/Culture]
For The Yemen Times
Taking a look down memory lane, Yemen can celebrate some of its historic personalities. Here's a look at two of them
Ali Hassan Al-Saqqaf
(Born in Al-Sheikh Othman, Aden in 1905)
Regarding the family of Ali Hassan Al-Saqqaf, Mr. Abdullah Kayed Fare'e, a symbol of the well educated and patriotic personalities said: "there are two great dynasties of a well reputed history in Aden. The first is the dynasty of Al-Saqqaf in sheikh Othman and the second is that of Hamoud Master in Kraiter.
The Al-Saqqaf dynasty ruled Al-Sheikh Othman. The police chief, the magistrate, and the school principal in that district were all born and brought up in that dynasty.
Hassan Al-Saqqaf occupied a highly respected position at the Township Authority in Al-Sheikh Othman. He got his basic education at the Government School in Al-Sheikh Othman. After that he moved to Crater to have his preparatory and secondary education in the Residency School.
In 1923, Hassan Al-Saqqaf experienced two prominent events in his life, which are the loss of his father and his occupation of a government job. He stayed for a long in the area of accounting at the Township administration.
Afterwards he worked at the Treasury as a Cashier prior to his being promoted to the post of assistant of the general accountant. At that time he was the only prominent Yemeni national among the British and the Indians.
His son, Safwat, speaks remincently about his father. "He was one of the pioneers in the field of banking. He was awarded by the British government the M.B.E.(Member of the British Empire) honor."
For being discreet and socially respected, he was appointed a member of Aden Jury.
In the same day, the 30th of Shawal Mr. Ali Hassan Al-Saqqaf passed away.
When he died, the British Government conveyed its condolences to his family.
Hassan Ahmad Hassan Al-Saqqaf
(Born in Al-Sheikh Othman, Aden in 1926)
This man also belonged to Al-Saqqaf dynasty.
Sheikh Abdullah Fadhil notes that he never joined any M'alama (pre-Revolution schools) as he was born and brought up in a well-educated family.
So he was immediately enrolled in a government school in the neighborhood. He got his preparatory and secondary education in Al-Sheikh Othman.
He joined the army in 1941 and worked at the Military Hospital after he was promoted to the rank of a major.
A few years later he joined the field of sports to assert himself a prominent footballer.
He published a valuable book named "Pages of the Memory"
Mr. Hassan occupied several well-reputed positions until he died in 1986, leaving nine children.
——
[archive-e:798-v:13-y:2004-d:2004-12-13-p:culture]