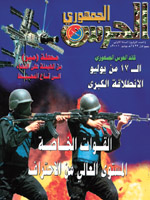 'Republican Guards' Fourth Edition Published [Archives:2001/30/Local News]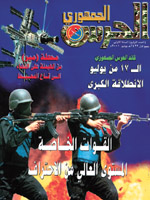 The July edition of the monthly magazine 'Republican Guards' (Alhurras) of the Military Forces was published a week ago with exclusive and interesting articles and reports. Headed by Staff Colonel Ahmed Ali Abdullah Saleh, the magazine has brought about a new improved vision of the effectiveness of the military forces in journalism and had introduced the great capacities of its Editor-in-Chief, Ahmed Ali Abdullah Saleh.
This latest edition of 'Republican Guards' included articles on politics, military forces, international news, opinions, health, environment, sports, and entertainment.
It is expected that the magazine will focus on the various issues including ways to efficiently improve the professionalism of the military forces. According to testimonies of readers, the magazine holds a spirit of new blood, innovation, eagerness to adapt with the worldwide developments in different sectors including economy, technology, and report on what is new worldwide in the main field related to the military. The spirit that the magazine brings is that of the youth. Its writers are mostly from the young generation writing about topics of interest for not only the military personnel, but for all citizens alike.
——
[archive-e:30-v:2001-y:2001-d:2001-07-23-p:./2001/iss30/ln.htm]